University of Glasgow Dumfries Campus going from 'strength to strength'
First Minister Alex Salmond paid a visit to the University of Glasgow's Campus in Dumfries on Friday 5 October, and described the site as going from 'strength to strength'.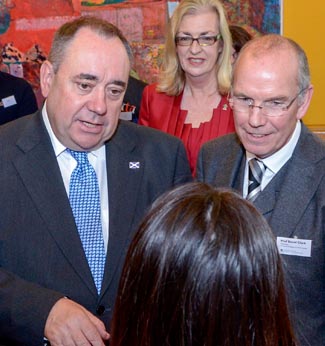 While at the campus, the First Minister met with University of Glasgow staff and students as well as representatives of some of the other organisations on site.
The First Minister said: "The Crichton Campus is an impressive example of how sites can transform to meet the changing needs of their communities and businesses, and having seen it for myself I can say it would be a fantastic place to go and learn.
"One of the first decisions taken by this Government in 2007 was to intervene to save the Crichton Campus from closure, and I've always had a special affection for this site.
"Since then it has gone from strength-to-strength and is now proposed as a site for the new Crichton school for young people aged 15 and over. This would be a new type of school offering exciting opportunities for young people, linking them to further and higher education and job opportunities.
"Having met some of the outstanding students already learning here and having listened to some of the educators inspiring them day-in-day-out I can see what an important role this campus fulfils for the community, and for future jobs here in Dumfries and the wider region.
"I hope it continues to be a place of learning and enterprise for many years to come."
Professor David Clark, Director of the University of Glasgow's Dumfries Campus, said: "We were delighted to welcome the First Minister and to share with him evidence of our recent progress and exciting plans for future development – from innovative teaching and learning programmes to research and knowledge exchange including the new Solway Centre for Environment and Culture and a recent circa £1m grant from the SFC for the multi-partner Crichton Institute."
---
For further information contact the University of Glasgow Media Relations Office on 0141 330 3535 or media@glasgow.ac.uk
First published: 5 October 2012