Author Christopher Brookmyre presents students with Talent Scholarships award certificates
Issued: Wed, 22 Feb 2012 07:00:00 GMT
The Scottish novelist Christopher Brookmyre presented 65 undergraduate students each with a certificate to mark their receipt of a Talent Scholarship worth £1,000 a year.
The scholarships are awarded to gifted students who might have difficulty in financially supporting their studies by providing £1,000 a year for every year of their degree, subject to satisfactory progress.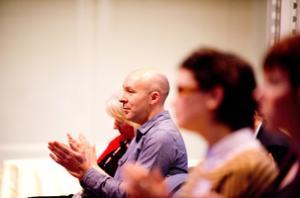 An award ceremony took place in the Kelvin Gallery, hosted by Professor Frank Coton, Vice Principal for Learning and Teaching. Mr Brookmyre is a graduate of the University of Glasgow and was named Young Alumnus of the Year 2005.
The Talent Scholarship Scheme, which is funded by alumni and supporters of the University, was established in June 2007 and has supported more than 220 students since its inception.
The scholarships are open to students with an excellent academic background before university, live in the UK and whose financial circumstances may make it difficult to take up a university place.
One previous recipient of the scholarship was Kirstie MacLeod who studied Gaelic. She said: "The impact of any scholarships should not be underestimated. £1,000 per year is massive when you are trying to live day to day off a very limited income.
"My first year scholarship was used to buy a laptop and printer. Over the past three years I have used the scholarship as part of my general income, however it has allowed me to make full use of the opportunities available at University."
Among the students receiving awards at the ceremony were ten who received prestigious Eliahou Dangoor Scholarships worth £1,000 each.
These scholarships are given to students who study in science, technology, engineering and maths programmes.
Funded by Dr Naim Dangoor, 97, the head of a successful property company, the scholarships were established in honour of his late father and set aside £3 million for scholarships at Russell Group and 1994 Group universities.
Dr Dangoor, who received a CBE in the 2012 New Year Honours list, studied engineering in London where he developed a lifelong commitment to educational causes.
The Dangoor scholarships are awarded on merit, and in some instances, to students who have excelled at schools where high achievement is rare or to students who have overcome obstacles such as illness and disability.
A further three awards were made by Medics Against Violence, a healthcare charity established in 2009 by three Scottish consultants, including Dr Christine Goodall who is a senior lecturer at the University of Glasgow.
The grants were given to three students from a widening participation background who have chosen to study a healthcare subject. These awards were presented in memory of Reamonn Gormley, a University of Glasgow student murdered in an unprovoked knife attack in Blantyre in 2011. Raemmon's parents Ann and Jim attended the ceremony.
Medics against Violence has over 150 volunteers, all senior healthcare workers, who aim to prevent violence and hence injury by using their experience to teach young people about the consequences of violence.
Professor Coton, said: "Scholarships are a vital way of opening up the opportunity of a world-class education for those who might not otherwise be able to come to university."
---
For more information contact Stuart Forsyth in the University of Glasgow Media Relations Office on 0141 330 4831 or email stuart.forsyth@glasgow.ac.uk
For more information on Medics against Violence see www.medicsagainstviolence.co.uk or contact admin@medicsagainstviolence.co.uk