Mapping Dumfries and Galloway's Past
Issued: Fri, 29 Jun 2012 09:46:00 BST
University of Glasgow archaeologists are asking members of the public to help record and interpret the buried history of Dumfries and Galloway, in a new archaeological project.
The 'Discovering Dumfries and Galloway's Past' project will train local people to undertake and interpret their own archaeological surveys in an attempt to build up a more detailed picture of the area's history.
The project will allow members of the public to carry out their own surveys, understand and interpret their results, and share them with a wider audience on the project's website where they will be freely available for anyone to see and study. It is hoped that, by informing people how to conduct and analyse their own geophysical explorations, the team will be able to build up a more detailed picture of Dumfries and Galloway's archaeological past, revealing more information on existing archaeological sites as well as locating new ones.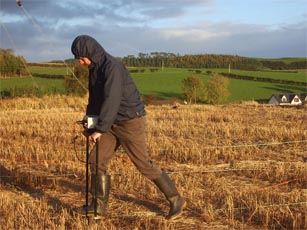 Geophysical surveys detect changes in the electrical resistance and magnetic fields caused by archaeological deposits under the ground, making it an ideal way to explore buried remains without having to excavate them. Known archaeological sites in the region include prehistoric monuments, Roman camps and forts, Medieval towerhouses and abbeys, right through to remains from the Second World War. The project is interested in exploring any site in the Dumfries and Galloway region, from well known locations to previously unexamined areas.
Giles Carey, the project's Development Officer, said: "The great thing about this kind of survey is that they can be rapidly downloaded onto a computer onsite and we can quickly 'see' a picture of buried archaeology. This means that, not only can you see the outcomes of your labours instantly, but that these can be quickly put into reports which will be sharing with the world through the website.
"This project will allow us an opportunity to explore a large area in great detail by engaging the local community. We hope to find information about completely new sites, as well as more detail about previously known ones. All this data can then be interpreted, helping us to understand what lies below the ground, and build up a more detailed picture of the history of our region.
The project, which launches today as part of the national 'Day of Archaeology 2012', is jointly funded by the Scottish Government and The European Community, Dumfries and Galloway LEADER 2007-2013; The Crichton Foundation and The University of Glasgow.
---
For more information please contact Nick Wade in the University of Glasgow press office on 0141 330 7126 or at nick.wade@glasgow.ac.uk.
Notes for editors:
The Day of Archaeology 2012 is an international celebration of archaeological project taking place around the world. In 2011 there were awareness raising events and contributions by over 400 archaeologists, from those in the field through to specialists working in laboratories and behind computers, and it chronicled what they did on one day, July 29th 2011 and gave members of the public a window into the daily lives of archaeologists. http://www.dayofarchaeology.com/