Cancer Research UK gives boost to University of Glasgow's budding scientists
Issued: Fri, 29 Jun 2012 09:29:00 BST
Research scientists from the University of Glasgow are among those to have been awarded prestigious grants by Cancer Research UK.
Dr Kamil Kranc from the University of Glasgow has been awarded a six-year Senior Cancer Research Fellowship worth £1,649,000 to help expand his work into leukaemia.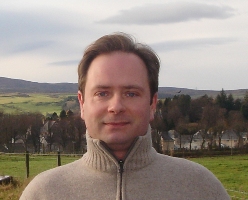 The award is part of a £11 million investment by the charity that will fund seven of the UK's brightest minds in establishing or developing their own independent research groups, attempting to find answers to some of the most fundamental problems in cancer.
Dr Kranc and his team are investigating why leukaemias return after treatment – a devastating problem for doctors, patients and their families.
Leukaemia is a cancer in which huge numbers of faulty white blood cells are produced by the body. Researchers think that leukaemia stem cells are responsible for producing these cancer cells, fuelling the disease.
Most leukaemia treatments get rid of the bulk of the faulty white blood cells, but they don't destroy the leukaemia stem cells, so the disease comes back. Understanding the tricks they use to avoid destruction is crucial to finding more efficient ways to target leukaemia.
Dr Kranc has already started putting the pieces of the puzzle together. He's identified molecules that are crucial for the development of leukaemia. He and his team are working hard to uncover how these molecules misbehave in leukaemia stem cells – research that will lead the way to more effective treatments for patients in the future.
Dr Kranc said: "This Fellowship is a major milestone in my research career, and will allow me to consolidate my research team, take our cancer stem cell research to completely different dimension and hopefully translate it to novel therapeutic approaches for leukaemia patients."
Professor Margaret Frame, director of the Edinburgh Cancer Research UK Centre and chair of the New Investigator Awards interview panel, said: "The quality of applications this year was exceptional and, although it was extremely difficult to choose, we're confident that the individuals selected are truly outstanding.
"The next few years will undoubtedly be difficult for these researchers as they seek to establish themselves in this highly competitive field. But with the extra funding and support they will receive from Cancer Research UK I have no doubt these outstanding individuals go on to achieve great things in the future."
---
For media enquiries, please contact Linda Summerhayes in the Cancer Research UK press office on 0131 243 2644 or, out of hours, the duty press officer on 07050 264 059.
For more information on the grants visit:
www.cancerresearchuk.org/new-investigator-awards