Glasgow-led project delivers 266 new homes in Pakistan's flood-hit Swat Valley
A University of Glasgow-led project which channelled Scottish Government and other donor funding into Pakistan's flood-hit Swat Valley district has resulted in the construction of 266 new homes.
Funding of more than £112,000 was awarded to the University and the Heritage Foundation in September 2010 by the Scottish Government's International Development Fund for South Asia and its Humanitarian Assistance Programme for Pakistan.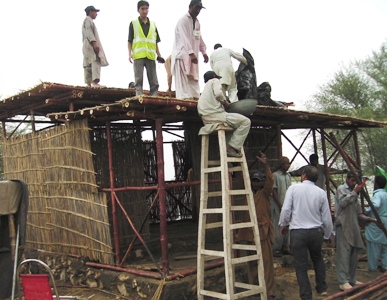 The money was used to build emergency homes for rural communities and to aid disaster management and rehabilitation of women and children in the North West Frontier Province, now Khyber Pukhtunkhwa, of Pakistan.
The two projects were jointly conducted by the Heritage Foundation, a not-for-profit cultural organisation led by CEO and Chair Yasmeen Lari, and the University of Glasgow led by honorary lecturers Dr Peter and Dr Azra Meadows.
The emergency homes – known as Green KaravanGhar (GKG – ghar means house in Urdu) – were specially designed low-cost units built with sustainable, local materials (bamboo, stone, lime-mud) on a guided self-help basis, that will last until permanent homes are built. The homes have a large room, a veranda, kitchenette, WC and washroom.
The second project, which runs until 2013, is providing disaster management and rehabilitation guidance for rural communities. This program is educating families and communities about hazard preparedness and post-disaster actions and advising on the development of livelihood programmes.
Recently, Azra and Peter Meadows with Naheem Shah, field project manager of Heritage Foundation, visited the Scottish Crofting Federation (SCF). They learnt about SCF's organisational representation for rural and farming communities in the Highlands, which would potentially be of great help for similar communities in Swat.
SCF researcher Iain MacKinnon said: "We learned from our visitors that the Swat Valley is an area that contains many rural communities and small farms with their own distinct culture and land based traditions.
"We were told that at the moment their small farmers do not have a representative group to stand for them. So, who knows, perhaps the SCF could be a model for such an organisation."
Azra Meadows said: "The funding given by the Scottish Government and other donors has enabled us to build many new houses for people who lost their homes in the disastrous floods of 2010."
Peter Meadows said "We are delighted that the University of Glasgow, working with the Heritage Foundation Pakistan and others has been able to make such a difference to the lives of communities in the Swat Valley."
Yasmeen Lari said: "It is our belief that the GKG emergency housing is but the first step towards self-reliance, through income generation, higher literacy rate, primary and preventative healthcare, skill enhancement, tapping of renewable energy sources and maximising natural and heritage assets."
---
For more information contact Stuart Forsyth in the University of Glasgow Media Relations Office on 0141 330 4831 or email stuart.forsyth@glasgow.ac.uk

First published: 12 February 2012