Professor Jane Duckett receives Lord Provost of Glasgow Education Award
Professor Jane Duckett, Professor of Chinese and Comparative Politics at the University of Glasgow and Director of the University's Confucius Institute received the prestigious Lord Provost Education Award at a special ceremony held in the City Chambers on Thursday 5 April 2012.
The Award was one of several made to men and women who have dedicated their professional lives to public services, worked selflessly for their communities or distinguished themselves in business, the arts, sport or entertainment.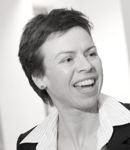 Professor Duckett was presented with the award by the Lord Provost of Glasgow Councillor Bob Winter. In what was his last major public event in the City Chambers before he demits office next month after five years as Glasgow's First Citizen, Cllr Winter said: "This event truly is one of the most rewarding for me as the city's Lord Provost. It is such a great occasion and to be able to honour people from diverse walks of life and who all have one thing in common – a commitment to Glasgow and its people.
"I can think of no better way to express our gratitude to these outstanding men and women by celebrating their achievements this way and in presenting them with an award."
Professor Duckett founded the Scottish Centre for China Research at the University of Glasgow in 2008 and developed distinctive new MSc programmes in Glasgow in Chinese Studies. She also played a key role in setting up the Confucius Institute at the University of Glasgow in 2011, an organisation that delivers Chinese language courses and organises events to promote understanding of contemporary Chinese society and culture. Together with colleagues at the Institute, she works within the University and beyond – with government, businesses and the wider community in Glasgow and across Scotland - to foster stronger, knowledge-based engagement with China.
Professor Duckett said, "I am delighted to receive this award – it is a real honour both for me and for the University of Glasgow, which has so fully supported my work. This is a hugely exciting time for the development of Chinese studies and the fact that this has been recognised through the Lord Provost's award is extremely significant."
The other recipients of the Lord Provost Awards were: Health Award , Mr Ian Anderson; Business Award , BAE Systems Maritime, Naval Ships; Award for Services to the Law and Justice, Dame Elish Angiolini; Performing and Visual Arts Award, Mr Donald Shaw; public Service Award, Mr Robert Booth; Sport Award, Mr Walter Smith; Services to Local Government Award, Bailie Jean McFadden; Special Award for Inspiring Individual, Ms Julie McElroy; Recipient of the Loving Cup, Mr Johnny Beattie.
---
First published: 5 April 2012