Running for Fun - and the Beatson Pebble Appeal
More than 300 athletes took to their marks on Saturday morning to 'Run for Fun' to raise money for the Beatson Pebble Appeal.
The race, which got underway at 11am, saw runners of all standards compete over a 5K or 10K course at the Garscube Sports Complex in Maryhill Road, Glasgow.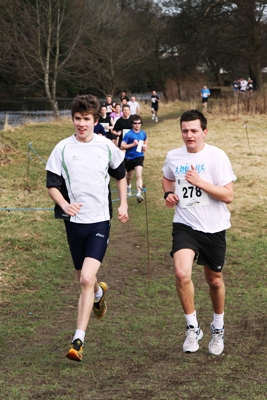 The Pebble Appeal aims to raise £10 million to build the Beatson Translational Research Centre (TRC) in Glasgow, which will be the first laboratory in Scotland dedicated to turning scientific discoveries into treatments for cancer patients.
To date the campaign, run by the University, has raised more than £5.8 million.
Speaking ahead of the event, Professor Sir Michael Bond, Campaign Chairman of the Beatson Pebble Appeal, said it was fantastic to know so many people wanted to take part in the event.
He said: "The campaign is more than half way towards realising its target. However, we must keep going if we are going to reach the £10 million goal. I'd urge the public to please remember that every donation assists our appeal and no matter how small it is, you will really be playing your part in helping the fight against cancer."
The Beatson TRC, which will be built at Garscube Estate in Bearsden, will convert basic cancer research into real improvements in treatments for patients.
The scientists housed there will focus on all types of cancers that affect all ages. Cancers such as breast, prostate, ovarian, lung, throat, mouth, stomach and intestinal, some of which are the most common in Scotland, will all be studied.
The Beatson TRC, is part of Glasgow Centre for Cancer, the largest comprehensive cancer centre in Scotland. It will also be one of the largest in the UK, which is being developed jointly by the University of Glasgow, the Beatson Institute, Cancer Research UK and the Greater Glasgow and Clyde Health Board.
For more information on this and other fundraising ideas and volunteering opportunities please see www.beatsonpebbleappeal.net.
---
For more media information please contact Eleanor Cowie Media Relations Officer 0141 330 3683 or e.cowie@admin.gla.ac.uk
First published: 22 March 2010