Cooperation agreements signed in Azerbaijan and Kazakhstan
Issued: Tue, 08 Jun 2010 16:25:00 BST
The University of Glasgow has signed a cooperation agreements with two leading institutions in Azerbaijan and Kazakhstan.
The memorandums of understanding with the Azerbaijan Diplomatic Academy (ADA) and the Kazakhstan Institute of Management, Economics and Strategic Research (KIMEP) - negotiated by Dr Clare McManus and Professor David Smith - will offer Central and East European Studies students at Glasgow the opportunity to study at these institutions as part of the International Masters in Russian, Central and East European Studies.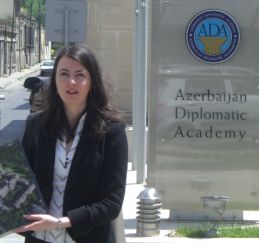 It will provide a foundation for future collaboration in research and PhD training and exchange and both institutions also expressed an interest in sending their own post-graduate students to Glasgow in future as part of a reciprocal arrangement.
Professor David Smith, Head of the Department of Central and East European Studies at the University of Glasgow said that the agreement was the first of its kind to be signed with the countries of the Caucasus. He said: "I am sure that our students from across Europe and North America will be very interested in receiving instruction at ADA about the Caucasus, Central Asia and the Caspian Sea Region."

ADA Rector, Hafiz Pashayev described the agreement with Glasgow as highly significant. He said: "The University of Glasgow, which recruits thousands of students annually from different countries across the world, plans to send students to Azerbaijan, where they will take courses in international relations, diplomacy and social sciences.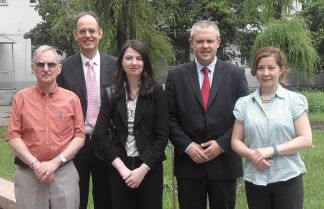 "As well as receiving first-class tuition, overseas students will also be able to familiarise themselves with local realities." Glasgow plans to give students the opportunity to study in Azerbaijan on ADA's programme on the Caspian Basin and Caucasus from next year.
The cooperation agreement with the Kazakhstan Institute of Management, Economics and Strategic Research will provide for the award of a double degree by the two institutions as well enabling an exchange of students and staff, joint research and the organisation of symposia. KIMEP runs English-language postgraduate taught programmes in Politics and International Relations and Central Asian Area Studies.
The new partnerships build on work consolidating the profile of the University of Glasgow in the both countries by the International Dean, Professor Vivienne Baumfield and the Senior International Officer for the region Caroline Boddie. Clare McManus's visit was funded by the International Partnership Development Fund.
Further information:
Martin Shannon, Senior Media Relations Officer
University of Glasgow Tel: 0141 330 8593
Professor David Smith, Head of Department of Central and East European Studies
University of Glasgow Tel: 0141 330 5254 Email: D.Smith@lbss.gla.ac.uk
---