Glasgow archaeologists attend dedication ceremony at Fromelles
Drs Tony Pollard and Iain Banks of the Centre for Battlefield Archaeology, whose work proved the existence of a mass grave from World War I, have attended a moving dedication ceremony in France.

The Glasgow archaeologists were invited by HRH the Duke of Kent to attend the dedication of the new Fromelles cemetery by HRH Prince Charles on 19 July 2010 on the 94th anniversary of the battle.
The service included extracts from the final letters and diary entries of many of the men who have been identified through DNA, underlining the human dimension of the battle. The service also included tributes to the fallen from the Duke of Kent, the French Minister of State for Defence and Veterans M Hubert Falco, HE The Governor-General of The Commonwealth of Australia Ms Quentin Bryce and HRH Prince Charles.
The importance of the contribution of the University of Glasgow was acknowledged in the presentations and displays relating to the recovery of the fallen soldiers.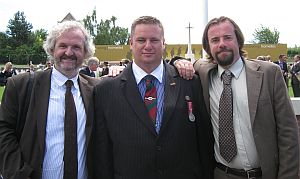 On 19 July 1916, the Australian 5th Division and the British 61st Division attacked the German salient known as the Sugar Loaf, just outside the village of Fromelles in northern France. At the end of the fighting, the British had lost 1,500 men, dead and wounded, and the Australians 5,533 - their heaviest single loss of WWI. Most of the dead lie buried at VC Corner outside Fromelles, but several hundred remained missing.
Nine decades after the battle, an Australian art teacher called Lambis Englezos became convinced that there was a mass grave at Pheasant Wood on the edge of Fromelles. Dr Tony Pollard and Dr Iain Banks of the University of Glasgow's Centre for Battlefield Archaeology were commissioned by the Australian Army to conduct a programme of archaeological survey and evaluation from 2007 to 2008 to determine whether the graves existed and whether the bodies had already been recovered.
Conducted in the glare of international publicity, the team from the University of Glasgow proved that the bodies were still present, and that these human remains included both Australian and British soldiers. As a result of this work, a large scale body recovery was undertaken to ensure the reburial of the dead in single graves, and a DNA programme was undertaken to try to identify as many men as possible.
The dead have recently been buried in a new cemetery at Fromelles, the first such cemetery to be built in 50 years.
Further information:
Martin Shannon, Senior Media Relations Officer
University of Glasgow Tel: 0141 330 8593
Picture: (l-r) Dr Iain Banks with Tim Whitford, whose great uncle was the first man to be identified through a medallion found in 2007, and Dr Tony Pollard.

---
First published: 22 July 2010