Small Animal Hospital officially opened by John Swinney MSP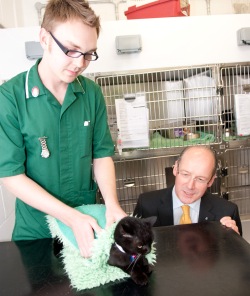 The Small Animal Hospital (SAH) at the University of Glasgow has been officially opened by John Swinney MSP, Cabinet Secretary for Finance and Sustainable Growth within the Scottish Government.
Mr Swinney, accompanied by Professor Anton Muscatelli, Principal & Vice-Chancellor and Professor Stuart Reid, Dean of the Faculty of Veterinary Medicine, toured the £15m facility, which has won several architectural awards including the Royal Incorporation of Architects in Scotland's Andrew Doolan Best Building in Scotland Award, where he will be available for photographs with animals and equipment.
The SAH has world-class facilities, including a diagnostic suite complete with both MRI and CT scanners, a linear accelerator for radiotherapy, a radioactive iodine unit, an underwater treadmill and a pain and rehabilitation centre, all of which are centred around the light and airy central treatment area.
The hospital has been built into the side of a hill and its sloping grass roof complements its environment. A central atrium allows the hospital to be lit by natural light providing a calming ambience to anxious pets and their owners.
Mr Swinney said: "The small animal hospital, which has been established by Glasgow University, is a world-class facility and it's a great compliment to the university that it's brought together the necessary funding support to ensure that we've got such an excellent care facility and such an excellent research facility.
"It complements the reputation for veterinary medicine expertise that Glasgow University commands and it helps to contribute towards developing the economic impact of the university within Scotland and also the research gathering potential of the university, which is very significant, within Scotland."

---
For more information contact Stuart Forsyth in the University of Glasgow Media Relations Office on 0141 330 4831 or email s.forsyth@admin.gla.ac.uk

First published: 7 July 2010