University of Glasgow music professor wins international award
Published: 3 October 2007
Professor John Butt from the Department of Music has won a prestigious Classic FM Gramophone Award
Professor John Butt from the Department of Music has won a prestigious Classic FM Gramophone Award.
The award for best performance in the Baroque Vocal Category was presented to the Dunedin Consort for their recording of Handel's Messiah. As Artistic Director, Professor Butt collected the award on behalf of the consort during a ceremony at the Dorchester Hotel in London on Wednesday 3 October.
The only Scottish artists to be nominated for one of the world's most influential classical music awards, their recording was described by Gramophone magazine as "the freshest, most natural, revelatory and transparently joyful Messiah I have heard for a very long time" when released by Linn Records last November.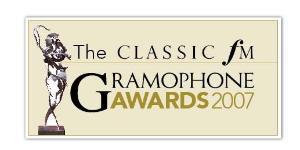 On receiving the award Professor Butt said: "I'm absolutely delighted that this recording has been so well received. There was always a risk in trying to recreate something of the spirit of a specific performance, with some unusual versions and a balance of soloists and chorus quite unlike most recordings of Messiah. But we were exceptionally fortunate in having our very best performers and, of course, the superlative sound and production of Linn Records. In all, a tribute to all those supporters who thought it worth sponsoring this recording - their generous hunch has certainly paid off."
University of Glasgow Principal, Sir Muir Russell congratulated Professor Butt on his award: "I am delighted that the outstanding work of John Butt and his colleagues has been recognised by this prestigious international music award."
---
Notes to editors
For more information please contact Kate Richardson in the University of Glasgow's Media Relations Office on 0141 330 3683 or email K.Richardson@admin.gla.ac.uk
First published: 3 October 2007