Glasgow students support 2014 Commonwealth Games bid
Students from the Universities of Glasgow and Strathclyde, and Caledonian University, rallied behind Glasgow's bid to host the 2014 Commonwealth Games on Wednesday 3 October.
Forming the number 36 for a photograph, the students, from a range of Commonwealth countries, highlighted the number of votes Glasgow needs to be successful in its bid.
University of Glasgow student Procheta Mallik from Bangalore, India, took part in the event. He said: "I chose to study in Glasgow because it is a really friendly and welcoming city with a fantastic cultural life. Since moving to Scotland to study at the University of Glasgow the people here have really made me feel at home. There is also a real passion for sport in Glasgow which I have particularly noticed as a member of the University's cricket team.
"I think the sporting facilities, culture and atmosphere of Glasgow make it an ideal place to host the 2014 Commonwealth Games."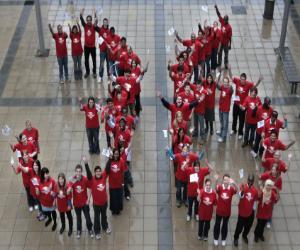 The Commonwealth Games Federation will announce their decision in Sri Lanka on November 9.
Jon Doig, Chief Executive of the Commonwealth Games Council for Scotland, was there to thank the students for their continued support. He said: "With only 36 days to go until we find out the result of the race for 2014 the finish line is in sight now. Like these students, who come from every corner of the Commonwealth, Scots at home and abroad have backed the bid in their thousands. This demonstrates the hunger this country has for success. We will continue to give it our all – making sure that we go to Sri Lanka and bring the home the biggest prize of all."
University of Glasgow Principal Sir Muir Russell added: "The University of Glasgow is proud to be supporting Glasgow's bid to bring the games to Scotland".
After backing the bid, students went on to show their support by attending various sporting events as part of a cross-University Intervarsity Sports Day, held at all three campuses across Glasgow.
---
Notes to editors
For more information or for copies of the photos taken on the day, please contact Kate Richardson at the University of Glasgow's Media Relations Office on 0141 330 3683 or email K.Richardson@admin.gla.ac.uk
Glasgow 2014
• Glasgow is one of two cities competing to win the right to host the 2014 Commonwealth Games; the other is Abuja in Nigeria.
• The decision will be made when each of the 71 Commonwealth nations vote during the Commonwealth Games Federation's General Assembly in Sri Lanka on 9 November.
Glasgow 2014 contacts
Suzanne Rough 0141 287 9844/ 0789 493 7589
Jenifer Johnston 0141 287 9819/ 0789 493 7593
First published: 3 October 2007