University of Glasgow engineer to appear on new £20 note
Published: 2 October 2007
A University of Glasgow graduate who helped build the Forth Bridge is to appear on the new Bank of Scotland £20 notes
A University of Glasgow graduate who helped build the Forth Bridge is to appear on the new Bank of Scotland £20 notes. As part of a new series of bank notes featuring Scottish bridges, engineering graduate, Kaichi Watanabe is pictured in the top right hand corner of the note alongside an image of the Forth Bridge on which he worked as a foreman.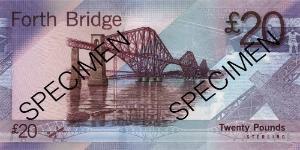 The new notes, which are currently being introduced in Bank of Scotland branches, feature Watanabe modelling the cantilever principle on which the bridge was built.
The first new complete set of notes issued by Bank of Scotland since 1995 celebrate some of Scotland's major and most recognisable engineering achievements and also symbolise solidity, stability and continuity.
Following his degree from the Faculty of Technology of the University of Tokyo, Watanabe came to the University of Glasgow in 1885 to study Engineering Sciences where he graduated with a Civil Engineering and Bachelor of Science degree.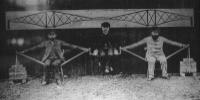 Following a period as an engineer for Fowler and Baker Engineering, Watanabe worked as a construction foreman on the Forth Bridge where he made considerable contributions to the construction of one of the world's most famous and instantly recognisable bridges in the world.
Bank of Scotland archivist, Reto Tschan, commented: "Kaichi Watanabe played an important role in the development of one of Scotland's greatest icons, so it is only fitting that he gets a place on the new £20 note. The image of Kaichi with Sir John Fowler and Sir Benjamin Baker is one of the most popular design features in the whole 'Bridges' series."
The new notes have been designed by De La Rue in partnership with Bank of Scotland.
---
Notes to editors
For more information please contact Kate Richardson in the University of Glasgow's Media Relations Office on 0141 330 3683 or email K.Richardson@admin.gla.ac.uk
Kaichi Wantanabe
On his return to Japan in 1888 following his employment on the Forth Bridge, Kaichi worked as chief engineer for the Nippon Doboku Company and then worked in several other companies. While working with the Hokuestsu Railway Company he invented a fuel saving combustor in which petroleum residue was used (the invention was patented under his name). In 1899 he was granted by the University of Tokyo a Doctorate in Engineering which led to his membership of many academic societies and engineering associations.
Later in his life Kaichi worked as president of several companies including Sangu Railway Company, Kansai Gas Company, Tokyo Ishikawajima Shipyard, and Keio Electric Railway Company. Overall it is said that Kaichi was a gifted and talented man and his achievements in engineering studies remain in the form of construction rather than of essays.
First published: 2 October 2007