University appoints new Executive Dean of Medicine
Links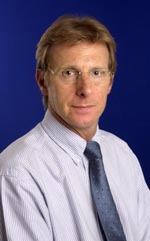 University appoints new Executive Dean of Medicine
Issued: Wed, 30 Jul 2003 00:00:00 BST
The University of Glasgow has appointed Professor Stephen Smith to the post of Executive Dean of the Faculty of Medicine. Professor Smith succeeds the current Dean, Professor Michael Farthing, who is taking up the Principalship of St George's Hospital Medical School, at the University of London.
Professor Smith (52) is currently Professor of Obstetrics & Gynaecology, and Head of the Department of Obstetrics & Gynaecology at the University of Cambridge and The Rosie Hospital, Cambridge. He will take up his post in Glasgow on 1 January 2004.
As Executive Dean, Professor Smith will have overall responsibility for resources and budget control in the Faculty of Medicine and be responsible for enhancing its reputation in teaching and research, fostering commercial development, and nurturing collaboration with the Greater Glasgow Health Board and the NHS in the West of Scotland.
The Faculty of Medicine is one of the largest in Europe with almost 2500 undergraduate and postgraduate students. Professor Smith will lead this vibrant Faculty, which is newly settled in an award-winning custom-built Medical School Building, designed to meet the specific requirements of the problem-based learning curriculum introduced in 1996.
Commenting on the appointment, Professor Sir Graeme Davies, Principal of the University of Glasgow, said: "The Executive Dean post has proved a successful innovation, recognising the increasing complexities involved in running a large medical school embedded in the NHS, at a time of continual change for both Higher Education and the Health Service. We are pleased to welcome Professor Smith to Scotland, and confident that he will bring to the post the ability, enthusiasm and experience which will further the reputation of Glasgow as one of the world's leading medical schools."
Professor Smith, who is a graduate of King's College, London, said: "I am delighted to be appointed as Executive Dean of the Faculty of Medicine. I look forward to playing my part in partnership with others in the University, the NHS and the broader community in continuing to enhance the position of Glasgow as one of the leading medical centres in Europe."
Media Relations Office (media@gla.ac.uk)
---