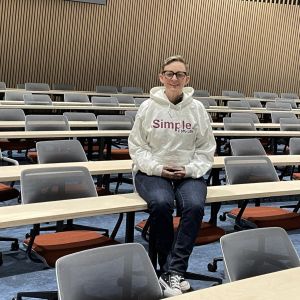 Help us to help empower our students
One of the things that we are focused on in the App team, is communicating constantly with students through lots of different channels, promoting the app and its various features. There's an old adage when you work in Comms – just when you're tired of hearing the message, your audience has just picked it up!
These days, the role of influencers when it comes to communications, is proving to be particularly important. In reference to the App, that means the people that operate around our student population – in particular, our staff members.
We spoke recently to Dr Amanda Sykes, Senior Academic and Digital Development Adviser, about the importance of this dynamic. She is enthusiastic about the UofG Life App and its benefits. "It's really a one-stop shop for our students – to know what's coming next in their timetable, to know where to study, and even how to get there. All this support reduces complexity, meaning our students will have more time and energy to learn and interact."
For the App team, this angle of 'complexity reduction' is interesting, and helps us refine our approach, especially as we continue to engage with students about the next phase of our development.
And speaking of development, it's clear that Amanda is passionate about how the app is developed and improved. "As long-standing members of the staff and academic community, we're really good at thinking we know what students want. But we don't know what it's like to be 20. We don't have an intimate understanding of their context. So, we won't get it right. However, because the App is built by students, for students – the fact that they are deeply involved in each stage of the development work, whether that is identifying new, helpful features, or helping to refine existing ones - means that we'll develop a much better-quality product. A product that will prove valuable to our students and help their learning goals."
Amanda is also clear about UofG staff's role in supporting the objectives of the app. "If you're student-facing, you need to know about the App. You need to know what it can do, and how it can help the students that you interact with. If you see that there is a gap in support that the App could fill, or if you have other ideas for the App, then get in touch with the team, they are always keen to work with different parts of the University. Or download it yourself – it's freely available on the Appstore and Google Play – there's lots of features that can benefit the staff community too!"
So, help the App team if you can, and be an active influencer!