James McCune Smith Learning Hub Set for January Opening
Although fewer members of the University community have been on-campus to see it, the James McCune Smith Learning Hub has continued to take shape over recent months.
We are currently engaged in the fit out of internal spaces and expect to be able to open the building to students on 11 January, at the beginning of semester two for study.
Whilst this building is designed to be publicly accessible, and we do look forward to sharing it with our local community, due to current restrictions on physical distancing, we may temporarily restrict access to prioritise student and staff access in the short term.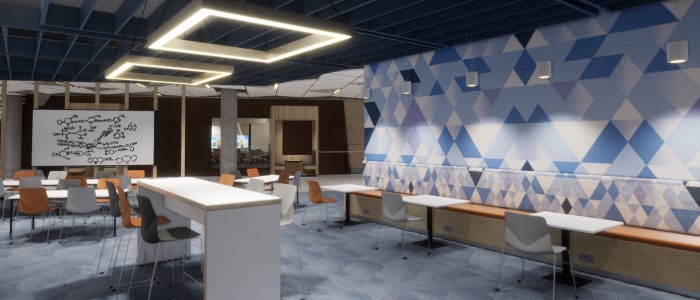 What will the McCune Smith bring?
Once fully operational, the £90 million building will provide learning and teaching space for around 2,500 students, including the interactive 500-seat Saltire Auditorium - one of the largest teaching spaces on-campus.
Of course we won't see large classes being taught on campus in the near future, due to Covid-19 restrictions, and we are temporarily adapting the McCune Smith for 2-metre physical distancing regulations.
Based on these restrictions, we expect the McCune Smith to initially provide capacity for around 1,000 people, as well as café facilities, serving hot food and drinks.
Like all buildings on-campus, it will be fully equipped to support physical distancing, with clear signage, hygiene stations and an enhanced cleaning regime in place.
Construction of the James McCune Smith Learning Hub began in Autumn 2017 with the demolition of the former Maths & Stats building which stood on the site. It will be the first completed building in the University Campus Development Programme, which is currently also developing the site of the Western Infirmary, as well making largescale improvements to University Avenue and University Place.
"I am confident that the University has built a landmark facility, one that will make a real difference to our students' lives and boost the University's profile as a global leader, delivering learning and teaching excellence." - Prof Frank Coton
Frank Coton, Vice Principal Academic Planning & Technological Innovation, said: "For many reasons, this has been a very challenging build, but it's pleasing that we will soon be able to welcome students and staff into the James McCune Smith Learning Hub.
"I appreciate construction is never an easy process, and one of the strengths of this project – it's location in the centre of our existing campus – has also been one of our main obstacles. I'd like to thank everyone on Gilmorehill for their patience and understanding, as well as Multiplex and our internal construction team, for their professionalism in continuing work under difficult circumstances, particularly during the pandemic.
"I am confident that the University has built a landmark facility, one that will make a real difference to our students' lives and boost the University's profile as a global leader, delivering learning and teaching excellence."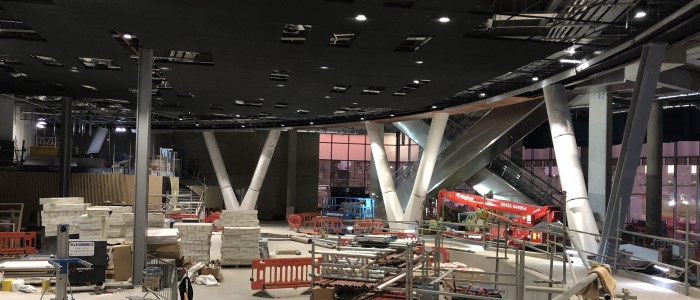 Learning and teaching
The McCune Smith will be a state-of-the-art learning and teaching facility right in the heart of the main campus. As we restart more face-to-face teaching, students will benefit from new facilities such as Technology-Enhanced Active Learning (TEAL) rooms, with screens, projectors, enhanced connectivity for devices; all of which make sharing information easier and mean students and teachers can collaborate in the learning and teaching process.
Many rooms are also designed to be easily reconfigurable, supporting different types of teaching activities, and making the learning experience more immersive.
As well as 1,300 teaching spaces, there are around 1,200 spaces for private or group study, equipped with charging points and access to high speed wifi. And, of course, the building has been designed with accessibility at its heart, so all students can access it regardless of physical access requirements.
Professor Moira Fischbacher-Smith, Vice-Principal Learning & Teaching, said: "The James McCune Smith Learning Hub has provided a fantastic opportunity to work with students and staff in designing spaces that support a real evolution in our approach to teaching. It will allow us to better support our students to participate in active learning within collaborative environments, using technology to support engaging learning opportunities.
"We have conducted various pilots and trials to inform how this building will operate, and it will be exciting to see students finally using the building, putting their stamp onto it and continuing to work in partnership with staff to shape and evaluate our changes in teaching in the University."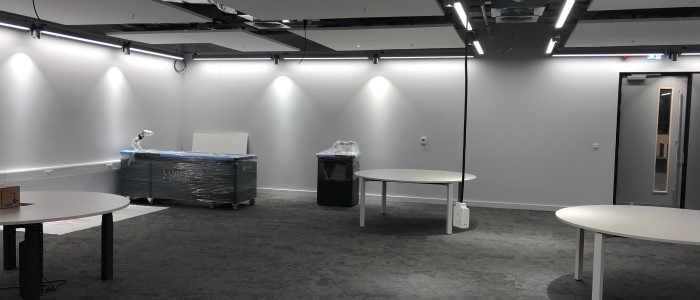 James McCune Smith
This building isn't just about technology; the vision behind the project was to promote accessibility and equality, allowing more people to benefit from a University education, regardless of individual needs or circumstances.
This is reflected in the decision to name the building after James McCune Smith, the first African American to earn a medical degree – graduating from the University of Glasgow in 1837. The figure of McCune Smith represents how this building will provide opportunities to engage more people in a university education, widening access those who may not have considered higher education before, or for whom it was not a realistic prospect.
Liam Brady, President of the Students' Representative Council (SRC), said:
"The opening of the James McCune Smith Learning Hub will be a landmark for the student experience at Glasgow. Not only will it create space, alleviating some of the pressure on existing study spaces, it will remove barriers faced by students with additional requirements, such as around accessibility, for whom historic buildings and campuses are barriers to a university education.
"I'm pleased that other areas of accessibility, such as extending opening hours to accommodate those for whom studying during core hours may not be possible – such as people with work, family or caring commitments – have also been considered in the design and operation of the building."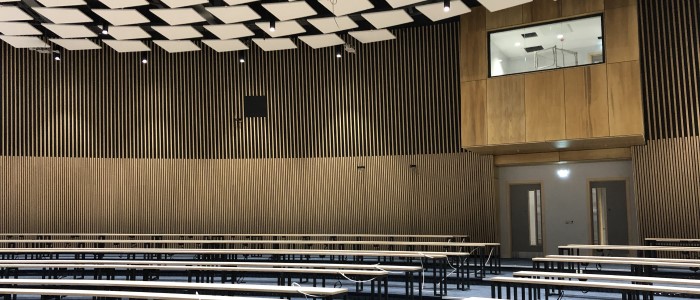 Other works
Alongside the McCune Smith, there is still work ongoing on several other construction projects, including redeveloping University Avenue to increase pedestrian access, improve safety, create better lighting and accessibility, and build two new, wider, safer pedestrian crossings to accommodate the high footfall the area receives.
The University Avenue works will complete in time for the opening of the McCune Smith and will integrate with the subsequent phases of the University's Campus Development Programme in coming years. With both the new Research Hub and Clarice Pears Building due to open in 2022, the University will soon be home to a vibrant new district on the site of the former Western Infirmary which will create a mix of teaching, research and social facilities.
It will also open our campus up to the local community, creating new pedestrian and cycle-friendly thoroughfares and routes, better connecting University Avenue with the wider city, including the cultural quarter to the south of Gilmorehill.
Despite the less than ideal circumstances of this year, the University is looking forward to welcoming our community into this building as soon as possible. For our students who are travelling to Glasgow for the next semester, we hope you can visit the McCune Smith in January, and for every other member of our student, staff or local communities, we look forward to seeing you as soon as current restrictions will allow.
---
First published: 6 November 2020