Become an Ally to Estranged Students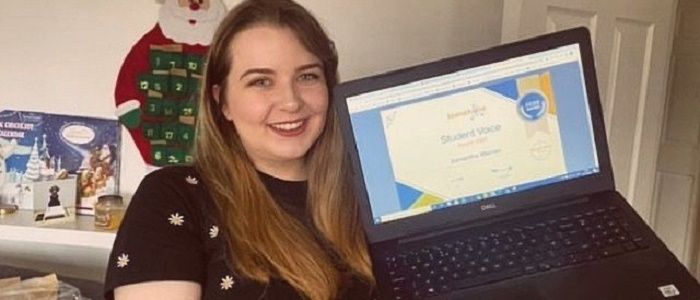 By Samantha Macrae
For Estranged Student Solidarity Week last year, I took the time to write a blog about the importance of being an ally to estranged students. I chose to write about this issue with the festive period approaching, keeping in mind it is an especially difficult time to be estranged from your family.
Challenging Assumptions
There is no other time of year when assumptions about families are so strong, and I really wanted to encourage people to challenge those assumptions. I always found that it really exposes the traditional family that I lack. Despite being estranged since the age of 16, five years later, I still struggle over the festive period.
Christmas dominates conversations and is on our televisions, on social media and in shops which is understandable, given that Christmas is a happy time for many. It means going "home" to houses filled with loving families, food, and the exchanging of gifts—Christmas trees, lights, and cards along the mantelpiece.
Loss, language and life experiences
And for students, it also means getting some much-needed home comforts after the stressful exam period. But as an estranged student, Christmas stands as a stark reminder for the family that I have lost in the past few years and is merely a 24-hour period to survive.
When I wrote my blog last year, I wanted to emphasise the importance of language when talking about estrangement and raise caution around assuming that everyone has the same life experiences as you.
I often feel bombarded with questions about how I am spending my Christmas when the reality is it is merely a week to survive. I also wanted to emphasise that allyship should extend past the Christmas period too, as there are many challenges that we face throughout the year.
My Chosen Family
I have been very fortunate that I have received a great deal of support from my friends and university staff. It is through this allyship that I have been able to navigate the barriers that I have faced as an estranged young person and build lifelong relationships. The term "chosen family" explains this really well for me. It reminds me that even if I lack the traditional family support, I am surrounded by others who love and care about me.
The support that I have received from the university has been transformative for me during my time in Glasgow. When I was first applying to university, I felt utterly helpless, and I genuinely believed that I would never succeed in higher education.
Having been let down by so many people in my formative years who were put in place to protect and look after me, I found it to be very challenging to approach universities to ask about support. Still, it truly was one of the best decisions I have ever made.
I would encourage anyone who identifies with estrangement to any extent to get in touch with the university to ask about the support which is available. It completely changed my life both during my application stage and throughout my overall student experience. It made me realise that I did deserve to study at university and was very much capable of doing so.
---
Further Information
First published: 17 December 2020