Virtual Walk to Help Disadvantaged Children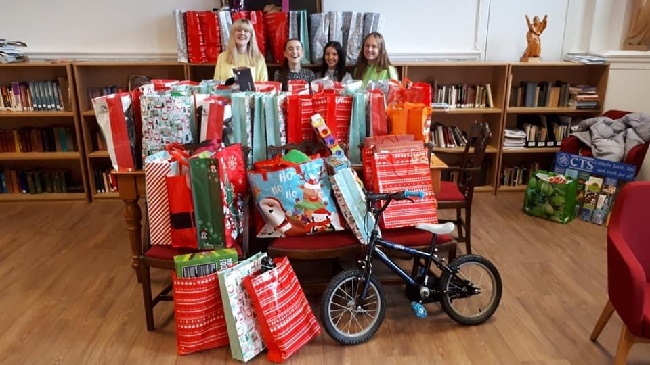 By Amélie Davidson
Can you help to bring the magic of Christmas to disadvantaged children this year?
The Student Pastoral Planning Team is a group of Roman Catholic student teachers at the School of Education who organise events, trips and pilgrimages. We are challenging School of Education students and staff to walk 10km in a week so that, together, we can walk the 2350 km to the Vatican (virtually!).
In class, students have been reflecting recently on their experience of Covid and applying it to a recent letter by the head of the Roman Catholic Church - Pope Francis - on the environment. Pope Francis' letter addressed to every person on the planet, asking us all to protect the earth. We have decided on an awareness-raising event, to encourage us to get out and walk, and to appreciate the beautiful creation around us.
The challenge will take place during the week of 4-11 November, which is Just and Green Recovery for Scotland Week of Action. Just and Green Recovery for Scotland is a coalition of 80 organisations calling for Scotland's recovery from Coronavirus to put people and the planet before profit.
For the second year running, we also want to support the fantastic work of Glasgow's Spirit of Christmas, which ensures that every local child living in poverty will have a gift to wake up to on Christmas morning. The sad reality is that 1 in 5 children in Scotland and 1 in 3 in Glasgow lives in poverty.
Glasgow Spirit of Christmas has over 15,000 children needing help to ensure that they wake up to a gift on Christmas morning. Imagine waking up as a child on Christmas Day to no toys, gifts or a hot meal. Every child deserves gifts on Christmas Day no matter what their circumstances are. Giving is the true spirit of Christmas!
The expense of Christmas can be worrying for any family but this year, with the added financial strain caused by Covid-19 such as families accessing the furlough scheme or redundancies, Christmas can seem even more daunting. It has been a difficult year for everyone and we have all learned the power of lending a helping hand in our community.
In the words of Mother Teresa, "We alone cannot change the world, but we can cast a stone across the waters to create many ripples."
---
How to Donate
If you would like to donate, sponsorship can be paid into the JustGiving page
Follow Us on Social Media
We would love to see you taking part so please take photos of yourself when walking and your route and tag us in on social media.
Twitter: @soepastoral
Facebook: SpiritualAndPastoralFormation
First published: 5 November 2020