Supporting UofG Students Isolating in Residences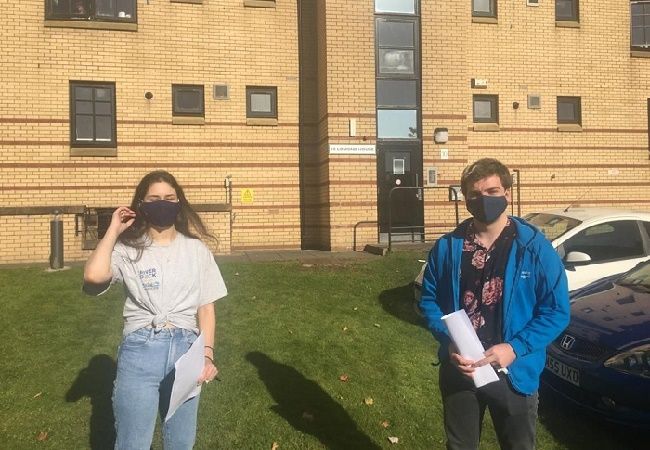 Glasgow University Students Representative Council's Liam Brady (GUSRC President) and Ella McCabe (GUSRC VP Student Support) were among UofG students, staff and members of the local community to offer help and support during the recent Covid-19 outbreak at UofG halls of residences.
Liam and Ella helped to hand out food and speak to the students who were isolating and they told us a bit about their experiences.
Question: During the recent Covid-19 outbreak you visited some of our residences to offer help to students. Can you tell us a bit about that?

Liam: Ella and I were up at Murano Street and Queen Margaret Halls. We went door to door checking if people were okay and if they needed anything. The majority of people that we spoke to were still positive about having come to Glasgow and were getting on well with their flatmates.

Ella: Most people we spoke to were pretty upbeat and seemed glad to talk to us about what they were going through. Those who told us they were nearing the end of the isolation period however, did seem to be struggling a bit more.
Question: What kind of support was available to help UofG students?

Liam: The requests we had ranged from people needing essentials like toilet roll or toothpaste, to some not so essential (but still valid) requests for things like chocolate and toenail clippers. You can't bash the benefits of good self-care in times like this.

There was definitely an atmosphere of frustration in response to how students have been treated lately in the media. We chatted to a few people about this and there was a sign up in one Murano flat window saying, 'Students not criminals' – we couldn't agree more.

Ella: There was also quite a wholesome atmosphere. We noticed some parents who were visiting and dropping off isolation packages and chatting through windows. There were also some students using Post-It notes to write messages on their windows: from just 'Hi', to sharing their Instagram names for people to add.
Questions: And for you personally, what did you take away from the visits?

Liam: We both greatly appreciated getting the chance to chat to students and it was really insightful to hear how they were doing and learn about their concerns so that the SRC can take them forward.

It's worth remembering that while we spoke to a lot of students, there were loads that we didn't get a chance to talk to – both in and out of University accommodation. We're currently recruiting student volunteers through GU Volunteering so that we can continue to provide a friendly voice to students in Halls and let them know that the SRC is here to support them.
Question: And Ella, you have created some additional resources for students?

Ella: We've put together an 'Isolation Toolkit' which contains a list of services that should help any students who are struggling and we're also continuing to run a regular programme of online events such as our popular 'Find A Mate Whilst You Isolate' sessions from Freshers' Week. You can find these sessions plus all our online events on our platform Native. Check it out if you're looking to get involved with any of our amazing clubs and societies, or just want to chat to someone.
---
The SRC have also suggested checking out Glasgow Student Events and the Isolation Toolkit.


First published: 8 October 2020