Success at Herald HE Awards
Issued: Fri, 29 Jun 2018 16:31:00 BST
The University has scooped two prizes at The Herald Higher Education Awards 2018 – for Student Support Team of the Year and Academic Support Team of the Year.
Now in their fourth year, the awards celebrate "the extraordinary things" taking place in Scottish universities and colleges.
The University's Careers Service won the Student Support Team of the Year category in recognition of the suite of support it offers.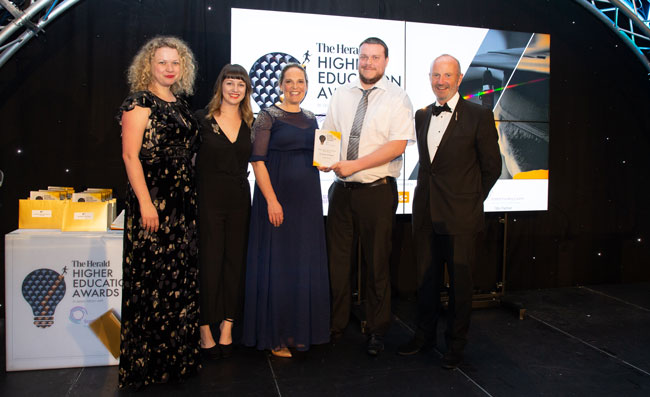 The team's aim is "to ignite that career spark, particularly in less engaged students".
They said: "We showcase unique and inspiring individuals, demonstrating where bravery or sheer happenstance can lead. Our approach to successful service delivery lies in academic collaboration, employer partnership and leveraging new technologies".
Its Internship Hub places 400 students annually in roles exclusive to them and the Careers Service have grown their on-campus offering by 20% (152 internships) through university-wide collaborations.
Other initiatives include the "Human Book Project" – a one-day event delivered in partnership with the Library, which gave students unprecedented access to eight alumni expert "Human Books" from creative destinations; a "Careers Steer" event in which Careers partnered with Development and Alumni in a Facebook Live event; and the First Tuesday Club featuring inspiring speakers.
The award was collected by Lesley Taylor, Business Relations Team Manager; Sarah Armour, Alumni Volunteers Manage); and Kirsty Kilgour, Internship Hub Manager (Business Development).
The award for Academic Support Team of the Year was given to the University's LEADS (Learning Enhancement & Academic Development Service (LEADS) team and collected by Dr Matthew Williamson, Director of LEADS; Andrew Struan, Writing and Study Skills Co-ordinator; and Jessica Bownes, Effective Learning Adviser.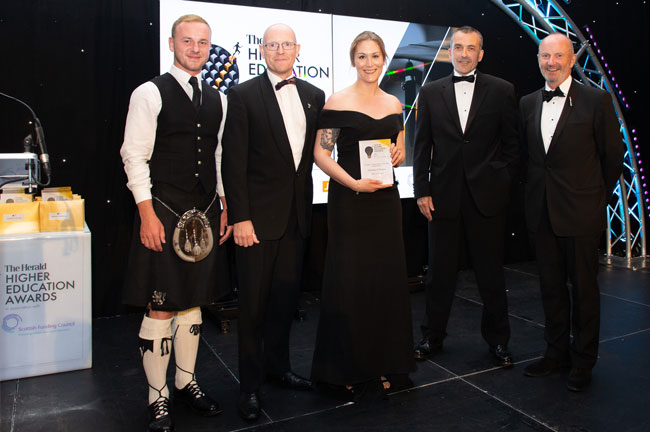 "By working with our central team, students can develop their academic skills, writing, and maths and stats proficiency from pre-entry undergraduate (UG) to PhD. We also run the UK's largest compulsory writing course, the Academic Writing Skills Programme (AWSP)," said the LEADS team.
They added: "LEADS has transformed the delivery of its service in response to a growth in student numbers and expectations. In what could have been a massive challenge, we adopted new and innovative models of provision to keep student needs and our commitment to the L&T strategy at the core of our objectives.
"We have achieved a year-on-year increase in student attendance and engagement, with our most recent annual increase being an additional 5,000 students.
"Our new model involved: expansion of class sizes to accommodate increased student attendance; enhanced specialism in provision through creation of new suites of classes (e.g. Communicating Science); a range of tailored 1:1 meetings; and extensive online provision of interactive materials and resources.
"With this new model, we were able in 2016-2017 to achieve a grand total of 29,638 student attendances throughout the academic year. This number comprises of, for example, 5,247 student attendances at LEADS classes, 1,134 one-to-one appointments, and 19,751 attendances at sessions embedded within the standard curricula."
Rachel Sandison, Executive Director, External Relations, said: "I am delighted that the innovative work of both the Careers Service and LEADS have been recognised in The Herald HE Awards. Their creativity and support to all our students is sector-leading. These latest awards build on an impressive record of achievement in The Herald's HE Awards and elsewhere, including the Times Higher Education's (THE) most recent THELMA award for Outstanding Marketing/Communications Team."
---