Teaching Excellence Award Success
Issued: Thu, 28 Jun 2018 14:00:00 BST
‌‌Two staff from the College of Arts were presented with a University of Glasgow Teaching Excellence Award.
The two recipients are based at the School of Humanities | Sgoil nan Daonnachdan.
Senior Lecturer in Information Studies Ann Gow and Lecturer in History Dr Timothy Peacock were presented with the UofG Teaching Excellence Award 2017-2018 by UofG Vice Chancellor and Principal Professor Sir Anton Muscatelli.
Ann Gow, who received a standing ovation from students when she was presented with her TEA "for a career distinguished by significant and sustained commitment to excellence" on Tuesday 26 June 2018 , while Timothy Peacock's was an early career award.
Fantastic to see @UCUSPresident Ann Gow recognised by @UofGlasgow for teaching in excellence awards 2017-18 #UofGGrad18 pic.twitter.com/b0o96kkROV
— Aamer Anwar (@AamerAnwar) 26 June 2018
Professor Roibeard Ó Maolalaigh, Vice Principal and Head of the College of Arts, who delivered the citations for both Ann and Tim at the graduation ceremonysaid: "Ann and Tim through sustained excellence in delivery have both made an outstanding contribution to teaching and student support in the College.
"It was a privilege to share in the University's celebration of their achievements and to witness the rapturous applause their awards received in the Bute Hall. That both University awards came from the College of Arts bears testimony to the continued dedication of our staff to providing world-class teaching and student support."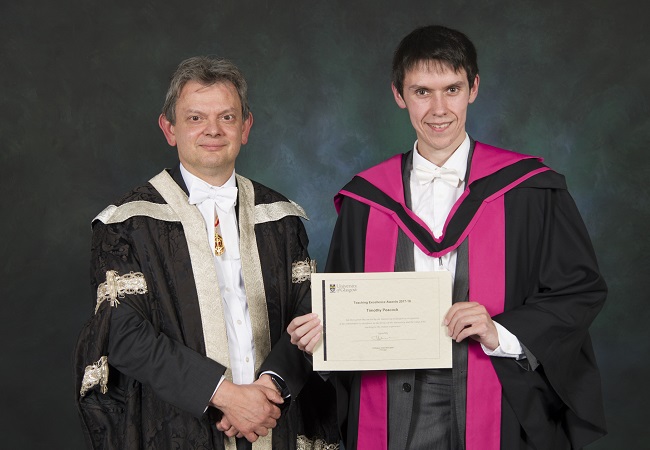 The award, which set up by the University's Senior Management in 2005-2006, to recognise and celebrate members of staff whose teaching is of a particularly high standard.
Up to two TEA winners per College can be nominated for an award at University level.
All winners since 2005 join an informal Teaching Excellence Network. Members of the network are invited to contribute their skills and expertise to a range of activities, such as training, informal mentoring, peer review and, on a consultative basis, to Learning & Teaching Committee business and strategy meetings.
---