University Gardens conservation project
This summer the University is undertaking vital repair, restoration and conservation work to the exterior of Nos. 9-14 University Gardens.
The project will refurbish windows, overhaul and repair roofs, and restore exterior stonework. This is essential backlog maintenance works to allow the buildings to be restored and returned to a wind and waterproof condition and prevent further degradation of the external fabric.
The work is scheduled to begin towards the of this month. We expect scaffolding to be erected on or around 24 May, work to take place over the summer and conclude towards the end of October.
This will be the first phase in a two-phase project, with Nos 1-8 to be undertaken in 2022.
All work on the Grade A and B listed buildings will be undertaken in strict accordance with Historic Environment Scotland regulations, employing traditional crafts and methods, remaining sympathetic to the buildings' original features and in a like for like manner. The work will also reuse some of the materials, including stone and slate, from the original buildings on the Western site.
The University's Timetabling team will be in touch with colleagues with teaching scheduled in the affected buildings during Phase 1. If you believe you have activities planned that you need to find alternative accommodation for and have not been contacted, please get in touch with the University's Timetabling team timetabling@glasgow.ac.uk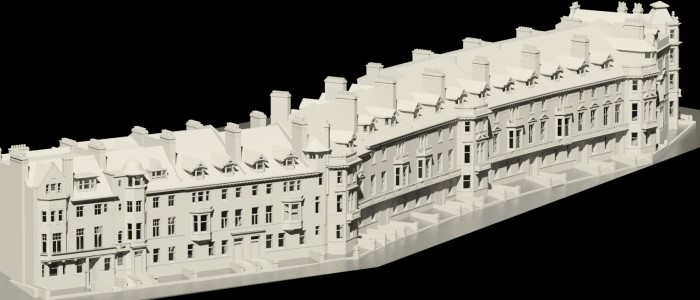 We do not require colleagues to move any items out of offices while the work is taking place, and any access to offices that is permitted or required over this period can continue, however we may need to ask that some items are moved away from windows to facilitate access. We will share a full programme schedule closer to the start date, so colleagues can arrange for window areas to be cleared.
As per Scottish Government COVID restrictions, we currently ask any colleagues who do require access to University buildings to request access via the UofG Helpdesk https://www.glasgow.ac.uk/help and inform their line manager. You can find more details about activities permitted on our campuses as well as how to arrange access to buildings on our COVID Recovery Hub webpages https://www.gla.ac.uk/myglasgow/coronavirus/guides/
If you have any queries about the programme of works, please contact the Estates team on uni-gardens-project@glasgow.ac.uk.
---
First published: 10 May 2021