Prizes for the prosthetics of the future?
Last year, Professor Ravinder Dahiya founded the Helping Hands Club, bringing together UofG students with one goal: to develop low-cost, customisable, prosthetic limbs that will also give amputees back their sense of touch.
The club's first spin-off company, SmArtLimb, is up for two awards at the Converge Challenge Awards later this week: the Kickstart Award for early-stage ideas, and the KickStart Digital Entrepreneur Award for online marketing talent. The latter was voted for by the public; voting has closed, but you can still watch the nomination video.
Professor Dahiya already has a lot to celebrate this month:
"Quite a good year"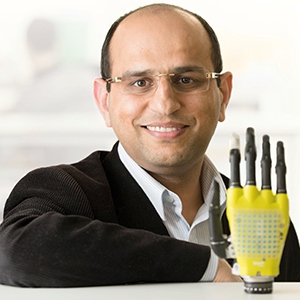 With notable understatement, he told Campus e-News: "This year appears to be quite good in terms of these things! The 40UNDER40 is wide recognition across Scotland, while the MEE and IEEE are deep recognition from my international peers in engineering. I appreciate both."
He is confident that SmArtLimb can win the Kickstart awards. "We've submitted a strong proposal. We are developing something that isn't available today even in state-of-the-art smart prosthetics. Synthetic skin will return touch sensitivity to amputees, and because the limbs are 3D printed they are customisable."
Professor Dahiya offers the example of a child who loses a hand: after two years their body has grown and changed shape. Current state-of-the-art prosthetic limbs are about £30,000 and they are one-size-only, but with 3D printers an amputee child will be able to build their own hand and resize parts of it as needed. The healthcare system will benefit too: SmArtLimb expect their prosthetics to cost a tenth as much as the current high-end, so health service money will go further and help more people.
Inspiring students
The SmArtLimb team includes two postgraduate students, and the Professor's wider team another 13, many of whom are Marie Curie Fellows, Lord Kelvin Adam Smith Fellows, or Newton Fellows. "I think the students are proud to be part of this, and of the University in general. There are not many groups with this many Fellows, and we've just submitted projects for eight more Marie Curie Fellowships! We also have an academic who was recently promoted from post-doc. That's a great feeling, to see people in my group progressing and settling well.
"The awards and prizes are an opportunity for human investment. I'll be able to add another member to the team, or to support a current member for longer."
The Converge Challenge Awards winners will be announced this Thursday in a ceremony at the Assembly Rooms, Edinburgh. The University of Glasgow also has a finalist in the main category: graduate Susanne Mitschke for her much vaunted MindMate App, an assistance platform for people with dementia.
More information
---
First published: 19 September 2016