Dr Nicole Bourque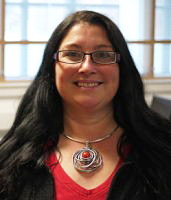 It is with great sadness that we inform staff, students and friends of the sudden and unexpected death of Dr Nicole Bourque, a Senior Lecturer in Anthropology and a much loved colleague within Sociology and the wider School of Social and Political Sciences, write her colleagues from Sociology, School of Social and Political Sciences.
Nicole joined the University of Glasgow in 1993, with a stellar academic trajectory. A First Class Honours degree in Anthropology from the University of New Brunswick, Fredericton, was followed by the award of a Commonwealth Scholarship which allowed her to pursue a PhD in Social Anthropology at the University of Cambridge (Girton College), and which resulted in her outstanding thesis: 'Soups, Saints and Sucres: An Analysis of Food, Religion and Economy in the Central Ecuadorian Andes'.
Her ethnographic work was focussed, initially, on the investigation of popular religious belief and syncretism in Ecuador and Bolivia. More recently she had brought her anthropological training to bear on other contexts, collaborating with colleagues across a range of disciplines to study religious education in schools, and drawing on anthropological understandings of ritual to shed new light on how corporate 'away days' work or fail. In the last few years her interests had turned to pilgrimage and to understanding the symbolic struggles over pilgrimage routes and pilgrim identities. Her continued interest in the Anthropology of religion was reflected also in her on-going research into practices of conversion to Islam, and in her supervision of students researching experiences in Muslim communities.
Deeply committed
Throughout her work she displayed all of the virtues of the ethnographic researcher: she was multilingual, carefully attentive to varieties and differences of experience, interested in the details of people's lives and situations, and deeply committed to the possibility of empathy and understanding across the borders of languages, nations and cultures. It was characteristic of her that, through the course of her fieldwork, Nicole formed many long-lasting friendships.
She was also a wonderful teacher. Students left her lectures and seminars with broadened horizons, asking new kinds of comparative question and enthused by the prospect of Anthropological inquiry. That enthusiasm was stoked further in the many field trips, film screenings and workshops that she organised for them and in the respectful and encouraging way in which she responded to their own research projects. Above all, she was fiercely committed to her students' welfare and interests, never failing to treat them as whole individuals with lives beyond their University courses and assignments.
She extended just the same care and compassion to her colleagues, many of whom can attest to the fact that, when they first arrived in Glasgow, it was Nicole who made the particular effort to seek them out and to make sure that they were settling in. Unfailingly generous with her time, she provided enormous amounts of – often hidden – support in her role as Honours convenor for many years. She was always the first to offer to cover for absent colleagues, to help out in a crisis, and to provide one of her famously strong cups of coffee to anyone who needed it!
Free spirit
Away from work she was a free spirit who loved travel, walking and climbing, often combining all three interests in hiking expeditions around the world. In recent summers she volunteered in the Pilgrim's Reception Office, Santiago de Compostella, a place that was very dear to her. Closer to home, she was proud of her 'Munro-bagging', and was delighted when she completed them all.
Nicole was central to the life of Sociology for over two decades, and she will be hugely missed by her colleagues and students.
Professor Anne Anderson, Head of the College of Social Sciences, adds: 'I was deeply saddened to learn of Dr Bourque's untimely passing and, on behalf of the College of Social Science, offer my condolences to her family, her friends and all of her colleagues and students past and present at this difficult time'.
---
First published: 25 October 2016