Volunteering in University Services – thank you!
University Services staff have been volunteering for the past two years with three partner organisations – the Conservation Volunteers (TCV), Quarriers and Cornerstone, writes Cara MacDowall, Volunteer Co-ordinator.
The objective of the programme is to 'bring people together, encouraging cross team working'.
Since the start of the programme, more than 100 staff have taken part. Earlier this year, we asked US staff to comment on the Volunteering Scheme and feedback their views. Elizabeth Gray, the new Chair of the Volunteering Committee, praised University Services staff for providing feedback: "It is invaluable to the Volunteering Committee and will help guide us through to the next phase of the project".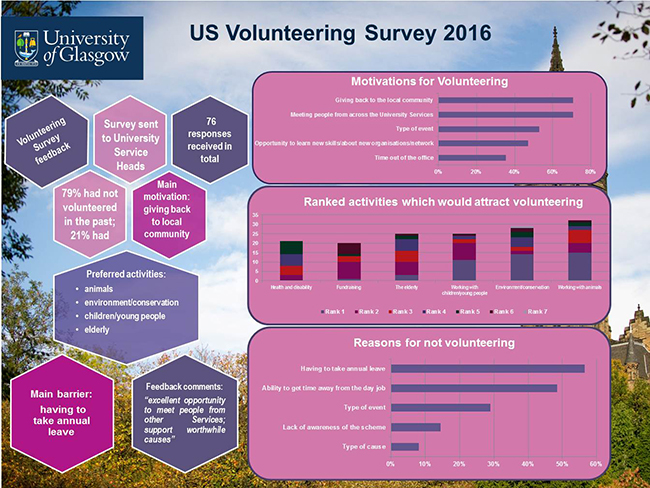 What we found is that many members of staff would like to widen the current offer to include charities that work with animals, the environment and young/older people.
In response, we have two events arranged with the Dogs Trust in November – Wednesday 16 and 23. Each event is for six members of staff to support their work including taking dogs out for their daily exercise. The Volunteering Committee is also working through the finer detail of staff feedback to address issues raised.
We will be continuing our partnership with TCV as these outdoor events have proven popular. The next one will take place on 28 October where we will be returning to the Cathkin Braes to help renovate some steps.
If you would like a taste of what it is like to volunteer, have a look at the video which the Social Media Team put together when they came to the last volunteering day. Hopefully this will put you in the mood!
More information
---
First published: 7 October 2016