John Finch to lead Business School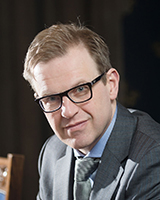 Professor John Finch has been confirmed as Head of the Adam Smith Business School following a period as Acting Head.
John joined the Adam Smith Business School in October 2012 as Marketing Professor. Previously he was Marketing Professor at the University of Strathclyde, where latterly he was also Vice Dean (Knowledge Exchange) for Strathclyde Business School.
He began his academic career as Lecturer in Economics at the University of Aberdeen, having completed his PhD at Lancaster University Management School. His research interests are in Market Studies, which is the application of actor network theory, science and technology studies and ethnography to understanding the interactions of markets and their broadly economic exchanges.
John says his priorities as head of ASBS will be to:
Position our research and researchers for larger, multi-disciplinary projects;
Continuing to enhance student experience through focussed intervention that pilots different ways of connecting our intended learning outcomes with novel assessment and feedback;
Establish the school's 'go to' credentials for research, knowledge exchange and (broadly construed) corporate connections;
Further develop our internationalisation, especially through student mobility, offering our programmes in geographical regions new to us, and entering into a small number of major strategic partnerships.
College appointments
Liz Broe has been appointed Director of College Professional Services in the College of Arts.
Sharon McGregor has been appointed Director of College Professional Services in the College of Social Sciences.
---
First published: 4 October 2016