Space strategy launched
The University is launching its first ever space strategy.
Space is a key strategic resource that can enable our future success. The new Space Strategy will inform how space is used and developed throughout all University buildings, new and old, and applies to all types of space: workspace, learning and teaching space, research space, social and amenity space, commercial/incubator space. This represents another step towards transforming our campus.
Phil Taylor talks to Senior Vice-Principal and Head of the College of Science and Engineering, Muffy Calder, and to Clerk of Senate and Vice-Principal John Briggs about the space strategy.
The University currently occupies 400,000 square metres of buildings over two campuses, plus shared accommodation at the Dumfries campus, NHS estate and SUERC. It also has a field station at Rowardennan, Loch Lomond and Cochno Farm. This space is spread throughout 295 buildings, many of which hold listed status, posing serious challenges when one the University's ambitions is to provide open, permeable and flexible space which encourages informal interaction and collaboration. This policy aims to ensure staff and students are all provided with the best spaces possible, the right type of space, when needed, at a cost that is at a sustainable level.
Implementing the space strategy will enable the University to become a more efficient, environmentally sustainable and cost-effective campus. It will also improve our current position in the Government's University Estates League Tables. The Space Strategy sets targets to improve University performance against the 24 Russell Group Universities. By 2020, we aim to be in the top eight universities.
The strategy documents can be found on the Estates and Buildings Space Strategy page.
Pilot teaching rooms
The new Learning and Teaching Hub on University Avenue, due to open in Autumn 2019, will be the first large scale opportunity for the University to design new space with these principles in mind.
Refurbished pilot rooms, designed to test these principles for learning and teaching space are now in use. The rooms allow students and staff to try different learning and teaching approaches and feedback and results of this pilot, will be adopted by the University for the final design of the new building. These new active learning spaces, designed by HLM architects, have an improved layout and more flexible furniture and equipment, enabling students to engage with learning material and with one another during a lecture in ways that traditional room layouts to not typically allow. The new rooms can be found in:
St. Andrews Building - Room 202, 227 & 230
Adam Smith Building - Room 901, 902, 903 & 904
Wolfson Medical School Building – Hugh Fraser Room and Gannochy Room
If you try the new rooms, let us know what you think: campus-development@glasgow.ac.uk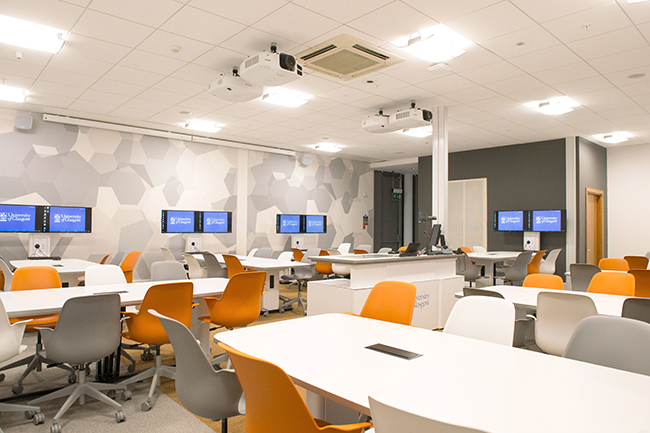 ---
First published: 4 October 2016