Habitats: Campus, City, Seashore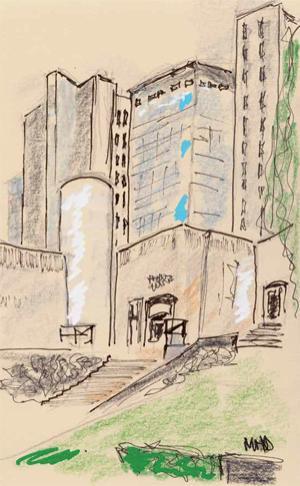 An exhibition of paintings and drawings by Marek H Dominiczak opened yesterday at the University Memorial Chapel.
According to the exhibition guide: 'The term habitat encapsulates the natural home of something, an existence defined by the physical surroundings, the environments we inhabit. It suggests synchronicity, normalcy and growth.
'Marek Dominiczak places the cultural, architectural and natural habitats of campus, city and seashore in conversation with each other to explore their connections, boundaries and transgressions, highlighting how such environments replicate and echo throughout the world.
'This exploration captures the influence upon our behaviour, the specific rituals created by our surroundings. From the locals who permanently inhabit the space, the nomads who repeatedly transgress the boundaries, to the visitors who arrive only to observe.'
Marek Dominiczak is a practising hospital doctor, and Honorary Professor of Clinical Biochemistry and Medical Humanities at UofG.
The exhibition runs at the at University Memorial Chapel until Feburary 2017.
---
First published: 26 September 2016