Parking restrictions University Place
Published: 18 November 2016
The gas distribution company SGN is working in University Place this week. Some parking spaces will be closed as a result. More here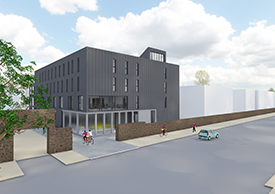 The gas distribution company SGN is working in University Place this week. Some parking spaces will be closed as a result.
The work is taking place to remove an old gas main that served the WILT building and is expected to take a week - running from Monday 21 November to Friday 25 November. SGN have been given permission for a road closure by Glasgow City Council. Access to the WILT will not change, and is via Forensic Lane (see diagram). About 16 car parking spaces in University Place will be suspended. Pedestrian access to Byres Road will be maintained.
As soon as they have finished the work, which is in preparation for our World Changing Campus, SGN will reinstate the road. This corner of the former hospital site is being used for the building that will be the new home for the School of Mathematics and Statistics during the expected construction of the University's Learning and Teaching Hub adjacent to the Boyd Orr building. All concerned apologise for any inconvenience.
‌‌
---
First published: 18 November 2016