WIRED award for Sheila Rowan
The UofG's Professor Sheila Rowan MBE has won WIRED magazine's Scientific Breakthrough award in recognition of her work that contributed to the discovery of gravitational waves.
The WIRED Audi Innovation Awards are designed to highlight and celebrate the extraordinary achievements of UK entrepreneurs and companies whose work exemplified innovation and social impact during the past year.
Professor Rowan, Director of the Institute for Gravitational Research at the University, is currently the Scottish Government's Chief Scientific Adviser. She was at the awards ceremony in London to receive the prize.
Research carried out by the Institute was part of a global effort leading to the discovery of gravitational waves, one of the most significant scientific discoveries of this century, with the international team involved being awarded the 2016 Special Breakthrough Prize in Fundamental Physics.
Other WIRED winners include London artificial intelligence firm DeepMind and bionic hand manufacturer Open Bionics. To decide on the nominations, panels of judges suggested nominees in seven categories before voting on the eventual winners.
Professor Rowan was not the only UofG nominee: Dr Jo Mountford and her team of researchers were nominated for the Most Exciting Moonshot award. They form the UK consortium NovoSang and are making billions of red blood cells in a laboratory at the University. NovoSang aims to scale up to alleviate the supply deficit of blood for transfusions. The project has received more than £12 million of funding to date.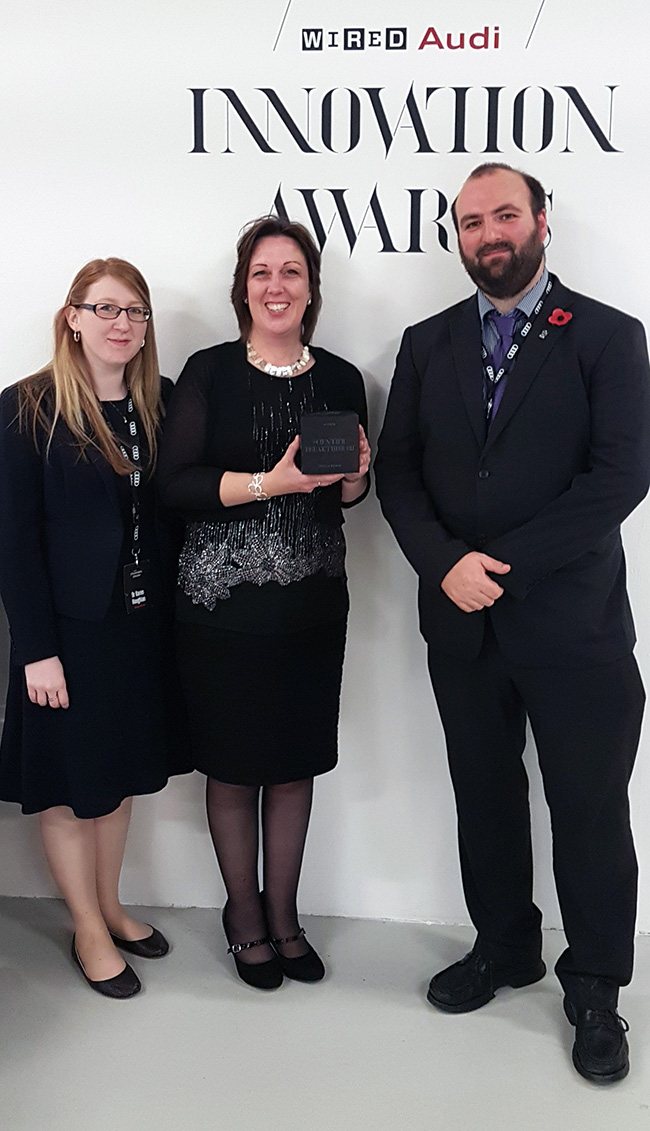 ‌
---
First published: 15 November 2016