News round-up
Issued: Tue, 10 May 2016 07:36:00 BST
Want to work with Internal Communications?
The Communications and Public Affairs Office is looking to recruit an internal communications officer on a nine month secondment. This is a great opportunity to join a busy and creative team involved in a huge range of internal communications activities – from writing copy for Campus e-News to working on the exciting campus development project. The successful candidate will also be involved in video production and editing, social media and in assisting colleagues in media relations.
For more details visit Internal Vacancies
The job reference is: 013158
You can also contact: communications@glasgow.ac.uk
Professor John Curtice Stevenson Trust Lecture
The Stevenson Trust for Citizenship presents a lecture by Professor John Curtice ( University of Strathclyde and Stevenson Honorary Fellow) on 'Has Devolution failed?'
'Has Devolution Failed?'
For its unionist advocates, devolution was meant to provide Scotland with a substantial measure of 'home rule', while at the same time cementing its place in the Union.
Where does that ambition lie after the country's fifth election to its devolved Scottish Parliament? Is devolution providing Scots with an effective opportunity to voice their support for a distinctive public policy? And what might be the future of its relationship with the rest of the UK, especially following the upcoming EU referendum?
Date: Tuesday 10 May
Time: 6pm
Venue: Sir Charles Wilson Lecture Theatre (corner of Gibson St and University Ave)
All are welcome. No advance booking is necessary.
For more information visit The Stevenson Trust for Citizenship
UofG researchers co-authored 'Clinical Research Paper of the Year 2016'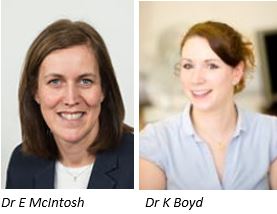 Dr Emma McIntosh and Dr Kathleen Boyd of the Institute of Health and Wellbeing are co-authors on a paper which has been named the BMJ Clinical Research Paper of the Year 2016.
‌Competition for this year's BMJ Awards, now in their eighth year, was fierce, with 320 entries and a rigorous selection process, which included presentations by shortlisted teams to a panel of judges
Read the winning paper: Oxygen saturation targets in infants with bronchiolitis (BIDS): a double-blind, randomised, equivalence trial
Comic Invention Evening Event for University Staff
Where: Hunterian Art Gallery
When: Thursday 19 May 2016 - 5.00pm – 7.00pm
All University staff are invited to a special evening event at the Hunterian Art Gallery on Thursday 19 May from 5.00pm – 7.00pm.
This special event offers the chance to enjoy the major new exhibition, 'Comic Invention', and to spend some social time with colleagues.
Staff will have the chance to see the exhibition and enjoy a drink, canapés and some live music from Fat Suit. There will also be craft activities available for children.
Admission is free and staff and their families are welcome.
If you would like to attend, please email The Hunterian: hunterianrsvp@glasgow.ac.uk by Tuesday 17 May.
Places are limited so please confirm your attendance as soon as possible.
This event is funded by the Ferguson Bequest. Professor Thomas Ferguson (1900-1977), Henry Mechan Chair of Public Health (1944-64), bequeathed his estate to the University, with the instruction that the money should be used to foster the social side of University life.
For further information on the Comic Invention exhibition, visit Comic Invention
---