Pat is Postdoc Mentor of the Year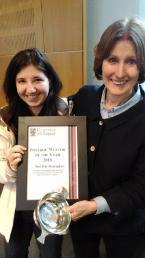 Professor Pat Monaghan from the Institute of Biodiversity, Animal Health and Comparative Medicine has been named as the 2016 'Postdoc Mentor of the Year' at the University's research staff conference which took place last week.
The award celebrates the commitment of staff who mentor early-career researchers at a critical point in their career, helping them to make positive career choices, develop skills and networks, build a professional identity and maintain a good work-life balance.
Find out more on the Research Strategy and Innovation Office web pages.
---
First published: 6 March 2016