€4m funding for social robot project
A project designed to develop an entertaining humanoid robot that is able to interact naturally in the dynamic environments of a public shopping mall has received over €4m in EU funding.
The four-year project is named MuMMER, which stands for "MultiModal Mall Entertainment Robot". It aims to address the important and growing market of consumer entertainment robotics by advancing the technologies needed to support this area – and also by explicitly addressing issues of consumer acceptance, thus creating new European business and employment opportunities in consumer robotics.
Launched on 1 March 2016, MuMMER is led by Dr Mary Ellen Foster, a lecturer in the School of Computing Science at the University of Glasgow.
Project partners include the shopping mall in Finland where the robot will be deployed, as well as five further partners from academia and industry in the UK, Switzerland, France and Finland.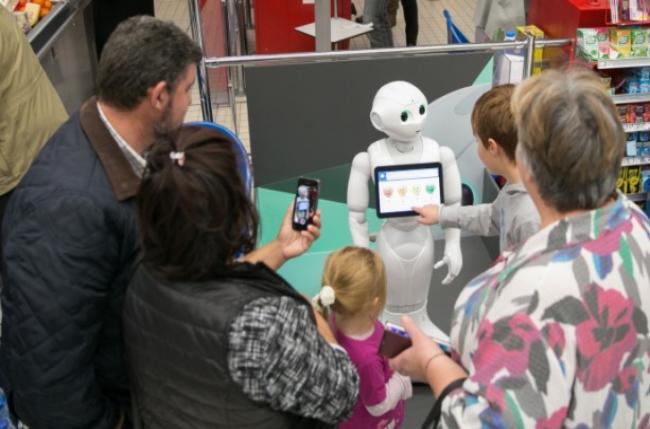 Dr Foster explained: "The project aims to develop a humanoid robot (based on the Pepper platform, a robot created by industry partner Aldebaran) that can interact naturally in the challenging environment of a public shopping mall, providing an engaging and entertaining experience to the general public.
"From the start of the project, we will work together with customers, retailers, and business managers to develop the robot behaviours: this includes entertainment such as telling jokes or playing games, as well as providing guidance, information, and collecting customer feedback.
Project Partners:University Of Glasgow (Coordinating Institute)
Heriot-Watt University
Fondation De L'Institut De Recherche Idiap
Centre National De La Recherche Scientifique
Aldebaran Robotics
Teknologian Tutkimuskeskus VTT Oy
Kiinteisto Oy Ideapark Ab
"To interact successfully in the mall, the robot will need to behave in a socially appropriate way. To support this, we will develop and integrate new methods for audiovisual scene processing, social-signal processing, high-level action selection, and human-aware robot navigation.
"Throughout the project, the robot will be deployed in a large public shopping mall in Finland: initially for short visits to help with development and testing, and later for a long-term field study in the final year of the project."
To keep up to date with the latest news on the MuMMER project and to find out further information about the project and partners, please visit MuMMER
The MuMMER project is funded by the European Commission under the Horizon 2020 programme.
---
First published: 2 March 2016