First UK Academy for Cultural and Heritage Skills
Key leaders in the cultural heritage sector met last week to discuss plans for the creation of an Academy for Cultural and Heritage Skills (ACHS) which will be based at Kelvin Hall.
The Academy will offer training opportunities for those entering the arts and culture workplace and for staff already working in the cultural heritage, arts and cultural industries.
The Kelvin Hall which is set to open in autumn 2016 as a £35m cultural, sporting, study and research centre will house the Academy.
Creating something completely unique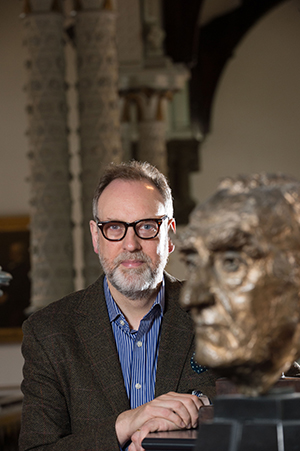 Professor David Gaimster, Director of the Hunterian Museum is leading the set-up of the Academy.
He said: "Today as we bring representatives from the culture and heritage sector in Scotland together it clearly shows there is lots of interest for this project and it will rely on support from across the sector.
"There is a complete lack of a framework for career development and learning in the wider museums and galleries and cultural heritage sector both in Scotland and the UK.
"There is not a progressive framework and there is nowhere that following postgraduate entry people can develop professional and business skills.
"I think that is a real threat to the sustainability and viability of the sector. We are seeing the need for new kinds of managerial and business skills that are not available for people to pick up during the course of their career at the moment.
"This academy would be addressing a big gap. It is an opportunity for businesses and organisations to input and exploit the project and individuals to build their own personal portfolio of learning throughout the course of their career.
"We have academic qualifications but there are not professional qualifications available to those in the cultural sector. We will be developing the concept of creating a CPD framework for the sector. We need both intellectual skills and professional skills to ensure we create the next generation of cultural leaders. This is vital for Scotland, vital for the UK and vital internationally.
"We are trying to create something completely unique and different and Scotland will be leading the way.
"We will start by piloting programmes when Kelvin Hall opens and hope to develop it much more over the coming years."
Representatives from the University of Glasgow, Museums Galleries Scotland, Historic Environment Scotland, National Trust for Scotland, National Museums, National Libraries, Glasgow Museums and Skills Development Scotland attended the Academy for Cultural and Heritage Skills delegation.
Listen to Professor David Gaimster speak about plans for the Academy
---
First published: 1 March 2016