Thomas Hopkirk: Books, Botany & Fungi
'Spring is sprung, the grass is rizz' rhymed cartoonist Neil Budd. And so is the fungi.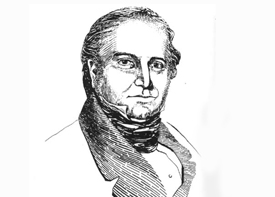 Thomas Hopkirk: Books, Botany & Fungi takes pride of place in a special illustrated Spring Talk in the University Library, Level 3 TalkLab, on Tuesday 15 March at 7pm organised by the Friends of Glasgow University Library.
The evening's guest speaker is Dick Peebles, food entrepreneur, mycologist, and former director of Caledonian Wild Foods, who will discuss and explore Thomas Hopkirk's innovations and continuing influence today.
The grandson of one of the city's many Tobacco Lords, Hopkirk helped pioneer and promote botany, lithography, and public engagement in the understanding and enjoyment of Nature's wonders. He became a Fellow of The Linnean Society in 1812.
He founded the Glasgow Botanic Gardens, and the Royal Botanic Institute of Glasgow, while out at his Dalbeth estate just east of the city centre his Botanical Library was far superior to that of the University's and was extensively used by the new Hunterian Museum to catalogue the multitude of botanical specimens donated to it by Dr William Hunter.
He also funded and co-published in 1825 what is now considered the First Modern Comic, The Glasgow Looking Glass, which can be seen in all its glory at the Comic Invention exhibition being held in the Hunterian Art Gallery from March 18th to July.
All welcome. Refreshments.
Image of Thomas Hopkirk courtesy: www.glasgowhistory.co.uk/
---
First published: 1 March 2016