UofG lecturer stars in cookery show
Issued: Fri, 10 Jun 2016 13:03:00 BST
University of Glasgow statistics lecturer Liberty Vittert will star in her own TV cookery show on STV from Monday 13 June.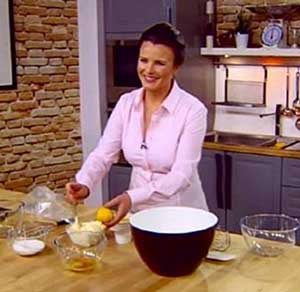 Liberty's Great American Cookbook follows Liberty as she visits some of her favourite restaurants and cafes in Glasgow and Edinburgh to eat traditional American food and shows viewers how to make their own stateside classics at home.
Before completing a PhD at the University of Glasgow Liberty trained at the prestigious cookery school Le Cordon Bleu in Paris and is a regular guest chef on STV's Live at Five.
She currently holds the Mitchell Lectureship at the University.
Liberty said: "The best part about American food is that it is a melting pot of every other cuisine; so Indian, Mexican, Portuguese, Italian, French - there is always an American viewpoint on that so you are never limited to 'one type' of cuisine.
"I'm most excited about showing everyone how spectacular authentic American food is. It gets such a bad rap, but after my explorations into food, it really is the winner for me, particularly since you do every cuisine as a part of it. I want everyone to see how easy it can be to make absolutely, explosively spectacular American food!"
Watch Liberty's Great American Cookbook every Monday at 8.30pm from 13 June on STV or catch-up on the STV Player.
Liberty's Great American Cookbook promo
---