Rowing is growing
Published: 19 July 2016
Glasgow University Boat Club celebrate a run of great results thanks to their expanded coaching team.
The 145 members of Glasgow University Boat Club are celebrating a successful year on the water. Their recent competition results highlight the improvements seen across the board since the coaching team was expanded from five to eight at the start of the 2015-16 session. The extra coaches were taken on thanks to funding from Scottish Rowing and sportscotland.
In April nine crews took home titles at the Scottish Student Rowing Championships.
In June the coxed four, none of whom had rowed before coming to UofG, reached the final at the prestigious Henley Women's Regatta. This was the third year in a row that UofG have had a crew in the final.
Last week fourth year education student Emma McDonald represented UofG at the European University Games in Zagreb, placing second in the B final. In 2015 Emma was the first UofG student rower to represent Great Britain at the Under 23 World Rowing Championships.
Later this month GUBC rowers, coxes and coaches will form a record quarter of the 70-strong Scotland team at the Home International Regatta. The crews will race in Cardiff on 23 July.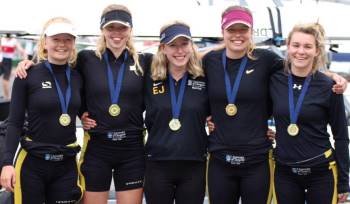 Andy Barton, the University's Director of Rowing and full-time club coach, is delighted with members' performances in competition. He told Campus eNews: "Club membership has grown steadily, almost doubling over the last three years, with 92% of our members learning to row at the university. We have also seen performance improve dramatically each year and I attribute our success to our club culture and ethos that treats all rowers the same regardless of their aspirations in the sport; whether they are GB level athletes, social rowers or new rowers taking their first strokes".
The club has also benefitted from increased awareness in Scotland of rowing as a competitive sport. The annual Scottish Boat Race between GUBC and their Edinburgh equivalent - one of the oldest such races in the world - attracts bigger crowds each year. In 2013 the race course was moved up the Clyde towards central Glasgow, bringing the event even more into the public eye. And in 2014 Scottish rowers topped the medals tables at the Commonwealth Rowing Championships.
If you are interested in joining Glasgow University Boat Club, whether or not you have rowed beforet, contact Director of Rowing Andy Barton: Andrew.Barton@glasgow.ac.uk
For more information
---
First published: 19 July 2016