Leading Light in Parasitology
Issued: Tue, 26 Jan 2016 10:11:00 GMT
The Wellcome Trust Centre for Molecular Parasitology (WTCMP) under the Directorship of Professor Andy Waters goes from strength to strength, writes Alexandra Mackay of WTCMP.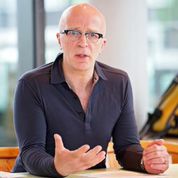 In the last year, as well as successfully recruiting a new research group headed up by Professor Rick Maizels and several new junior fellows, has just been successful in renewing his own Wellcome Trust Principal Research Fellowship for a further five years.
A Wellcome Trust fellow for the past 8 years Professor Waters continues to lead the way on the world stage. A regular contributor to Nature and other leading scientific publications Professor Waters delivers seminars all over the world and is frequently called upon to advise funders, business influencers and policy makers.
The total Wellcome Trust Principal Fellowship award of £3.6 million will allow Professor Waters to expand his research group and continue to contribute at the highest level to Parasitology research.
Professor Andy Waters, WTCMP Director said "I'm delighted with the Trust's generosity in funding the work of our group for the coming five years.
"We have opened up a new area of malaria parasite biology and it is my great hope that the funding will allow us to continue to explore the very fundamental and essential decision that the parasite must make to commit to sexual development and therefore initiate the transmission process.
"Ultimately this knowledge might easily translate into new methods and tools to interrupt the life cycle and help combat the spread of the disease."
---