Happy Birthday James Watt
Issued: Mon, 18 Jan 2016 12:37:00 GMT
19 January marked the 280th birthday of influential engineer and scientist, James Watt (1736-1819).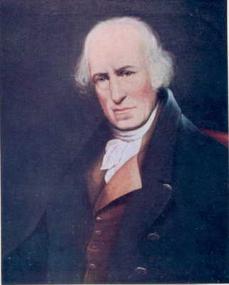 James Watt grew up in Greenock, and briefly trained in London before working for the University on the recommendation of his mother's relative, Professor Muirhead.
From 1756 to 1764 Watt was employed by the University of Glasgow as a mathematical instrument maker, beginning with assisting Robert Dick in the renovation of a valuable collection of astronomical instruments bequeathed to the University by the late Alexander Macfarlane.
These instruments, once restored, were housed within the purpose built Macfarlane Observatory in 1757, located on the University's old High Street campus.
This task earned the young Watt £5, and was to be the beginning of a prosperous career.
Some of Watt's most interesting work for the University was conducted with his friends and colleagues, Dr Joseph Black, Regius Professor of the Practice of Medicine, and John Anderson, Professor of Natural Philosophy. On Black's request he made an organ – which introduced him to the making of various musical instruments – and a machine for drawing in perspective, which was the prototype for the production of numerous models.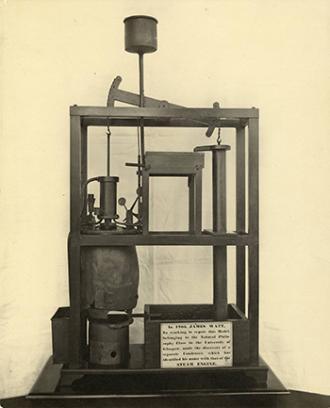 Late in 1763, John Anderson asked Watt to repair a Newcomen steam engine (a popular early model of steam engine used for pumping water).
Even following repair, he noted several problems with the model and went about inventing a more efficient steam engine.
It was supposedly whilst strolling one afternoon on Glasgow Green that Watt was struck with the inspiration for his revolutionary new model – he devised a separate steam condenser which would improve efficiency and significantly save on fuel.
This model was, by the 1770s, highly popular among industrialists.
By the late 1750s, Watt had been persuaded to enter into the world of business by his friends from the University.
In 1759 he entered into partnership with John Craig and opened a shop in the Saltmarket, from which he sold and repaired mathematical and musical instruments.
James Watt certainly left his mark on Glasgow and the surrounding area; as his innovative work gained him increasing recognition he became involved with numerous projects. In 1769 he surveyed the Clyde estuary for the Town Council, with a view to expanding the river for navigation, and planned and managed the building of the Monkland Canal which would bring coal quickly and cheaply into Glasgow.
Watt's connection to the University remained strong, even after his employment had ended. The University subscribed £200 to the construction of the Monkland Canal, and in 1807 consulted him on the best way to go about heating the new Hunterian Museum. He was even awarded with an honorary LLD in 1806, in response to which Watt founded two prizes in Natural Philosophy and Chemistry.

Following his success in Glasgow, James Watt moved to Birmingham, where he formed the major firm 'Boulton & Watt', with businessman Matthew Boulton.
James Watt was to die a very wealthy and successful man, as one of Scotland's most noteworthy scientists.
It was during his time working for the University of Glasgow, surrounded by influential and inspiring scientists, that he made some of his most significant creations. Watt certainly left his mark not only on the history of science and engineering, but on the University of Glasgow and the city as a whole.
More James Watt
Follow more celebrations of UofG innovator James Watt as part of the Scottish Government's Year of Innovation, Architecture, and Design on Twitter hashtags: #Watt250, #IAD2016 and @watt2019
For more information about the Watt-tastic years to come visit Watt's the Story? Celebrating James Watt

---