Overlooked Women Artists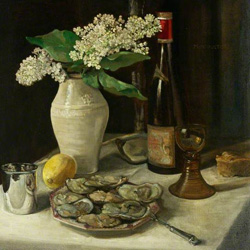 British Art Network event: 'Overlooked Women Artists and Designers 1851-1918'.
Last month a one day seminar, led by Dr Patricia de Montfort and Professor Clare Willsdon, History of Art, gathered together art historians, curators and PG students from all over the UK for a series of talks and discussion sessions on historic women artists, many of them now little known.
The event, supported by the British Art Network (an Arts Council England funded research network based at Tate Britain), marked both Dr de Montfort's recent in-focus exhibition on Louise Jopling at The Hunterian and the current very successful "Modern Scottish Women" exhibition at the Scottish National Gallery of Modern Art.
A podcast of the event will be available soon.
The image shows: 'Alas, April the 30th' by Maggie Hamilton. Courtesy Newport Museum and Art Gallery
---
First published: 23 December 2015