Confucius Institute of the Year
The Confucius Institute at the University of Glasgow has won the Confucius Institute of the Year award.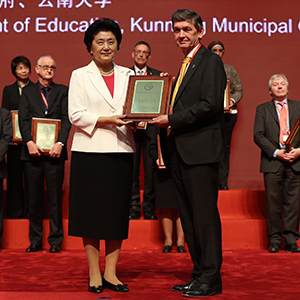 Professor James Conroy, Vice-Principal for Internationalisation, received the award from the Vice Premier of China, Mme Yandong Liu, at the opening ceremony of the 11th Global Confucius Institute Conference in Kunming.‌
This is the first time the Institute at Glasgow has won this award.
The Confucius Institute is in partnership with Nankai University, one of the University of Glasgow's strategic partners.
The Institute at the University of Glasgow was opened in October 2011 by the then First Minister of Scotland, Alex Salmond. Its overarching aims are to promote Chinese language and culture, and an understanding of contemporary China by offering Chinese language classes, organising seminars and cultural events, supporting schools, offering long and short term scholarships, and engaging with businesses.
During the past five years, the Institute has seen an increase in its student numbers in Glasgow, and an expansion of its teaching and cultural activities. During 2016 the Institute has:
Organised and hosted the UK & Ireland Confucius Institute Conference in September, which was attended by leaders from the Chinese and Scottish governments, Hanban (the Headquarters of the Confucius Institutes), and 80 representatives from 29 Confucius Institutes.
Organised a tour by the Student Choir of Nankai University across the UK and held a joint performance with the University of Glasgow Chapel Choir.
Continued to offer credit and non-credit Chinese language classes at the University of Glasgow and at the City of Glasgow College, and increased the number of students significantly. The credit-bearing classes have laid a solid foundation on which to build a degree programme, which is the long-term target for the University.
The Confucius Institute has also been involved in fostering closer links with partner organisations in China, for example, by supporting the establishment of the University of Glasgow - Nankai University Joint Graduate School - the first of its kind. The first cohort of students started a two-year Masters degree programme in 2015; by this year, the number of students had tripled to 90. The Institute offers a number of services, including translation services, business etiquette training workshops, liaison with partners in China and support on visits.
The Confucius Institute also offers various scholarships to students from Glasgow to attend placements in China.
Professor Conroy said: "The University of Glasgow has had long-standing links in China going back to the mid-nineteenth century when our first Chinese alumnus graduated. Indeed our alumni were intimately involved in the establishment of a number of prestigious institutions, including the Peking Medical School which evolved to become Peking University.
"We are particularly proud of our connections with our friends and partners at Nankai University where our collaborations include not only the Confucius Institute but also a joint graduate school, joint choral events and major funded research projects. The award of Confucius Institute of the Year is a testament to the closeness of our relationship as well as to the imagination and dedication of all our staff working to make Glasgow a leading centre for engaging with Chinese scholarship and culture."
---
First published: 12 December 2016