Winter Shut Down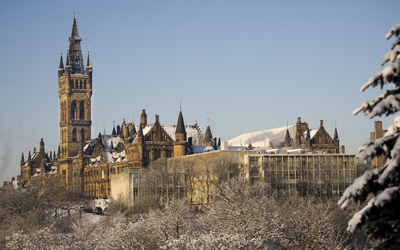 The Doddle store in the John McIntyre Building is closing this Friday 16th September. From that date outstanding parcel collections will be move to the Doddle store within Morrisons at Merkland Court in Partick. Any enquiries should be directed to their email address: hello@doddle.com.
Safety tips
Everyone loves Christmas lights and decorations but they can be a source of danger in the office and at home.
The University's fire safety team suggest a simple risk assessment is a good idea: avoid mains powered Christmas lights and go for the low-voltage sets with a transformer. Don't be tempted to use tea-lights or candles. Make sure the decorations you use in the office and at home are flame-retardant and don't put trees and decorations in places where they could obstruct fire exits or stairway enclosures. Avoid decorations made of crepe paper or polystyrene.
For good advice, have a look at the ROSPA website​.
One year on after a scare about tumble driers, there are still reported to be problems with Hotpoint, Creda and Indesit tumble driers manufactured between 2004 and 2015 covering some 113 models – if you are concerned regarding your own drier please contact our Senior Fire Officer Billy Russell who can supply you with further details on how to check your drier and what to look out for.
Transfer of West Glasgow Minor Injuries Unit
The local health board report: the Minor Injuries Unit (MIU) at West Glasgow is temporarily moving to the Queen Elizabeth University Hospital (QEUH) on Friday, 23 December at 9pm as part of the board's winter preparations.
Patients in west Glasgow already attend the QEUH emergency department for more serious injuries and illnesses and will be able to attend the existing minor injuries services there.
See more about this on the health board website.
Think about the environment
Did you know that the University of Glasgow spends around £11 million per year on gas and electricity?
In order to help the University cut costs as well as carbon emissions, we can all - staff and students - help save energy, by switching off lights and equipment, over the forthcoming holiday period.
Please don't forget to...
Have a general tidy up and reuse/recycle where possible
Switch off your kitchen hot-water boiler (if you have one) and empty/defrost the fridge
Turn down the heating if it's your responsibility
Close all of the doors and windows
Check for dripping taps
Unplug non-essential equipment (like printers, PCs, etc...)
Switch off the lights (including Christmas decorations)
If you work in a laboratory...
Dispose of your waste correctly
Switch off and unplug drying ovens
Tidy your fume cupboard and bench
Rationalise your samples and defrost the freezers
Back up all of your work
Switch off / turn down fume cupboards and bio-safety cabinets
Unplug non-essential equipment (water baths, IT equipment, etc...)
If you work in a shared space, make sure that the last person to leave remembers to switch things off!
Please note that a limited support staff is in place over the holiday period; any incidents or emergencies during this time should be reported to security (Gilmorehill campus: 4282 or 4444 for emergencies; Garscube campus 5799 or 2222 for emergencies). Security staff will implement call out arrangements where required.
Enjoy the holidays!
---
First published: 22 December 2015