The Presence of the Artist
An exhibition celebrating the life and work of artist, psychotherapist, writer and UofG student Bill Wylie opens today in the University Chapel.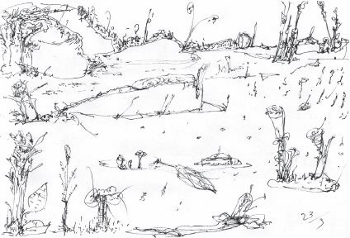 Bill trained in drawing, painting and sculpture at Glasgow School of Art and Edinburgh College of Art, and in Art Therapy at Queen Margaret University College, Edinburgh. Until his retirement in 2010, he enjoyed dual careers as an artist and Head of Art Psychotherapy at HMP Grendon, the only prison in Europe which operates wholly as a therapeutic community. He also taught art therapy, and published research on how a prisoner's artwork can be analysed to gauge their readiness to engage in group therapy.
At the same time, he was a member of the Advisory Board of the Society for Indian Philosophy and Religion at Elon University. He was fascinated by what he called 'symbolic thinking', beginning with his own deep involvement with Buddhist practice and concept of mind.
PhD studies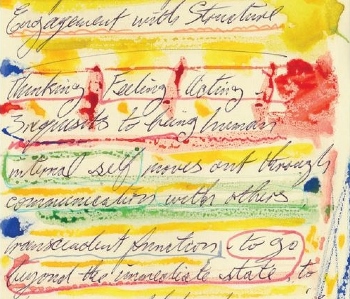 At the time of his death in 2014, Bill was studying for a doctoral thesis in Theology and Religious Studies at the University of Glasgow. His PhD supervisor, and curator of the exhibition, Professor David Jasper told Campus eNews that Bill's draft chapters "show a mind and spirit that combine the creative and the intellectual life".
In the book accompanying the exhibition, Professor Jasper writes: "Our conversations together moved across a wide canvas of thought…but there were always deeper reflections behind and beneath Bill's academic encounters with writers and thinkers, and invariably these brought us back to his own art as he moved between the word and the image. Bill's work reminds us of the deep responsibility of the artist and the profound religious dimension which art brings to human existence."
The exhibition - The Presence of the Artist - opens today in the University Chapel, and runs until 25 September.
---
First published: 23 August 2016