UofG researcher wins Wellcome award
‌Professor Hugh J Willison from the College of Medical, Veterinary and Life Sciences - Institute of Infection, Immunity and Inflammation - has received a prestigious Wellcome Trust Senior Investigator Award.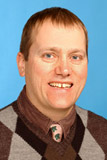 The Investigator Awards in Science offer flexible funding support to researchers at all career stages working on important questions of relevance to the Wellcome Trust's scientific remit.
Professor Willison and his team have been working on Guillain Barré syndrome (GBS) and the GBS variant called Miller Fisher syndrome (MFS). GBS has an incidence of 1-2:100,000 (500-1000 UK cases per year), very high health care costs, substantial morbidity, and a mortality of 5-10%. The overall aim of the Neuroimmunology Group is to solve the pathogenic cycle from origin to effects of anti-ganglioside antibodies and then design novel therapies and biomarkers.
"Dedicated Team"
He told Campus e-News: "It is a great privilege and an equally great responsibility to be funded again by the Wellcome Trust to further develop our research studies on Guillain-Barre syndrome.
"The Wellcome Trust has continually funded our work on GBS at the University for over 20 years, thereby maintaining the essential staff and laboratory infrastructure required to make significant inroads into unravelling the cause of this severe paralytic disorder.
"Laboratory work my dedicated team has conducted has led to new diagnostic tests and clinical trials of promising agents that are ongoing in Glasgow and elsewhere. However there is much more to be done and this award will allow us to explore new horizons, notably in relationship to the Zika virus epidemic that is currently triggering case of Guillain-Barre syndrome throughout Latin America, and about which we know very little. Without the continuous support of the Wellcome Trust, our efforts in this endeavour would be a fraction of what we have achieved, and intend to achieve over the next 5 years."
Professor Willison and colleagues have just held a 'GBS100' meeting in Glasgow which over 400 delegates attended. He has also edited a book summarising a century of progress since GBS was first described in soldiers at the Battle of the Somme in 1916.
Links:
Professor Willison's UofG staff page
The NHS Greater Glasgow and Clyde Neuroimmunology Laboratory website
---
First published: 2 August 2016