Public engagement - get involved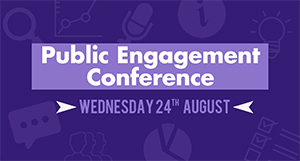 The University's public engagement with research activities are stepping up a gear with some forthcoming major events. writes Jamie Gallagher, Public Engagement Officer.
Submissions are open for the University of Glasgow's first Public Engagement with Research Awards and registration is also now open for the Public Engagement Conference (24 August).
Public Engagement With Research Awards
The University's "Inspiring People" Strategy sets out Engagement as one of the three key aspects to our Purpose. To celebrate the achievement of staff and students in this area we are pleased to announce a series of awards to recognise excellence in public engagement with research. The categories are: Engaged Researcher of the Year, Early Career Engaged Researcher of the Year and Engagement Project of the Year.
Applications are open until the 19th of August. Details and an application form can be found here:
www.gla.ac.uk/services/publicengagement/peawards
Winners will be announced at the PE conference on the 24th of August.
Public Engagement Conference
On Wednesday 24 August (9.15-15.00) the University of Glasgow will host a Public Engagement Conference. We have speakers from RCUK and the National Coordinating Centre for Public Engagement. The keynote will showcase the results from the "PE in the REF" review which examined all 6640 case studies.
Registration and the programme can be round here:
www.gla.ac.uk/services/publicengagement/publicengagementconference
---
First published: 1 August 2016