UofG and UESTC set up joint PhD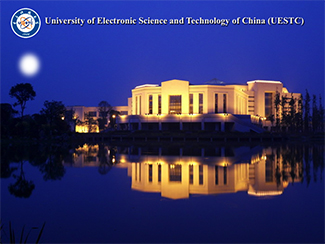 A joint PhD programme in Biomedical Engineering is to be delivered in partnership by the University of Glasgow and UESTC (University of Electronic Science and Technology of China) in Chengdu.
To date, collaboration between Glasgow and UESTC has been focused on the fields of engineering and on undergraduate programmes.
However, as the partnership moves into postgraduate research programmes, the aim is to include researchers from other parts of the University.
Dr Huabing Yin, Senior Lecturer in the Division of Biomedical Engineering, who is leading the new joint PhD programme, said: "I should very much like to include colleagues from other areas of research in this new programme and hope they will contact me."
The University of Glasgow will contribute research expertise in the following areas: synthetic biology, rehabilitation engineering, advanced medical diagnostics, neuroscience and psychology. UESTC will focus on: neuroinformation, protein engineering, biomechanics, bioinformatics and medical image processing.
Already, specific topics have been identified and new collaborations formed:
Synthetic biology (Jon Cooper & Julien Reboud / Lixia Tang)
Rehabilitation Engineering (Henrik Gollee / Daqing Liu)
Brain computer interface (Aleksandra Vuckovic / Tijun Liu)
Psychology-face Syntax (Rachael Jack and Philippe Schyns / Hongmei Yan)
Students are expected to enter the programme in December 2016 and will be supervised jointly between the University of Glasgow and UESTC. UESTC's School of Life Science and Technology will shortlist candidates, but supervisors from each university will interview them independently. Students will work in their UESTC supervisors' laboratory for six months before joining the University of Glasgow.
The purpose of the joint PhD programme is to nurture high-calibre students and to deepen research collaboration.
An average of five PhD scholarships per year will be awarded to top students in the School of Life Sciences and Technology at UESTC; the scholarships will cover full tuition fees and stipends over a four-year PhD programme at Glasgow. They will be awarded for the student intakes of the next three years (2016-18) with a potential extension beyond that period.
A joint "virtual" research laboratory is envisaged for the future to help overcome the geographical distance between the two institutions. Dr Yin hopes this will lead to the development of new projects, joint grant applications in both countries, an extension of the PhD programme, and the creation of an international research centre.
For more information contact: huabing.yin@glasgow.ac.uk

UESTC Student Centre inaugurated
The University's relationship with UESTC in Chengdu, China, has been celebrated with the official opening of the new UESTC Student Centre, based at the University of Glasgow's James Watt Building.‌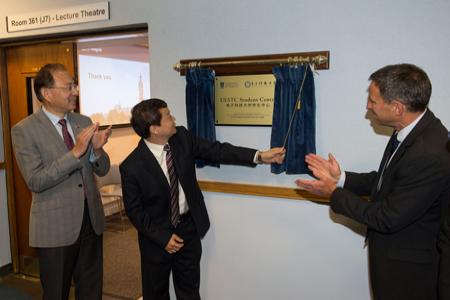 The formal ceremony was attended by senior figures from both partner universities and by Mr Pan Xinchun, Chinese Consul-General for Scotland.
The Student Centre comprises a learning and teaching hub with state-of-the-art IT facilities to support interactive learning together with an informal study area decorated with a Chinese flavour. The area will continue to be available to other students with its decoration emphasising the School of Engineering's strong links with China.
---
First published: 2 August 2016