Whisky walk raises funds for Glasgow
Issued: Wed, 13 Apr 2016 15:34:00 BST
The family of the late University accountant, Jack Smart, have been walking through whisky country raising even more money for University of Glasgow cancer research.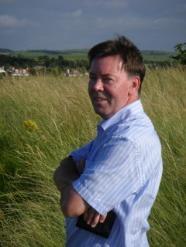 Jack Smart died in September 2012 after a short battle against an aggressive form of bone marrow cancer. Following Jack's Thanksgiving Service and the success of the family and friends entry into the Great Scottish Run in 2013 more than £11,000 was raised for charity in his memory.
The family decided that the funds raised in memory of Jack would be directed to the work of Carl Goodyear, a Senior Lecturer in Immunology at the University of Glasgow. Carl said "Multiple myeloma is an incurable cancer affecting a particular type of white blood cell and when these cells become cancerous and invade the bone marrow, it provides a safe haven for the cancer cells and gives them the ability to resist chemotherapy treatment."
Speyside Way
The research in the Goodyear laboratory is aimed at understanding the marrow environment and discovering ways to change the environment from supportive to unsupportive for the myeloma cancer cells.
This month, family and friends of Jack have been walking the Speyside Way, which runs from the coast at Buckie to Aviemore at the foothills of the Cairngorms, through the heart of malt whisky country, a distance of 80 miles. As an accountant Jack worked in the whisky business for a number of years before moving to the University of Glasgow and this will be a fitting tribute.
All the money raised will allow further research to be undertaken into the field of haemato-oncology so that new therapies can be developed to assist in ultimately eradicating multiple
myeloma and its associated conditions.
Jack's family is keen to raise the profile of this incurable cancer so that more people are aware of its aggressive nature and join the fight to find a cure. They would like to thank everyone for the support over the past 4 years and hope that you will once again generously support a great cause.
Bid for the whisky walkers' collection!
The "walkers" have been collecting bottles from distilleries along the way, all kindly donated by the owners of the distilleries.
You have an opportunity to bid for a UNIQUE whisky package including whiskies from The Macallan, The Balvenie, Aberlour, Glenfarclas, Glenfiddich and Cragganmore. Please contact: Sheila Gillies for further details and to register interest.
---