Welcome to Campus e-News!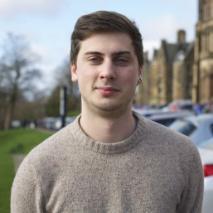 The SRC and the University have been working hard over summer to improve the way news and key developments are communicated to students, writes SRC President, Liam King.
This Campus e-News is the first to be sent to students having proved popular with staff over the past few years. Sent weekly it will include news about things such as the £775 million campus redevelopment; world-changing research breakthroughs; success achieved by fellow students and student groups; and volunteering, internship and research opportunities.
Campus e-News will hopefully replace many of the blanket emails and existing newsletters that exist across different Schools and subjects. To make this a success and to truly get the benefits we need your feedback. What do you want to hear about? What stories do you have to share?
格拉斯哥大学学生代表协会(SRC)主席Liam King近日提到:"学生代表协会与格拉斯哥大学在暑假中努力改善为学生提供最新、最快的学生与校园信息的方式。"
自设立之始,e-News(校园电子报)受到了全校教职员工的广泛欢迎。而这也是首次在全校范围内将e-News发送给同学们。每周电子报的内容会包括7.75亿英镑投资的校园改善计划;世界一流科研成果;学生与学生组织获得的成就与荣誉;还有志愿者、实习和研究机会等等。
e-News将会取代现有各系与各专业的通讯简报。为了让同学们从全新的e-News中获取更多有用的信息和知识,我们希望听到你们的声音!同学们有什么想听、想看或想与我们分享的呢?
Email us: communications@glasgow.ac.uk
From the Internal Communications and Student Services teams:
We are determined to provide you with a comprehensive weekly round-up of University news covering the main campus at Gilmorehill, Garscube, Dumfries and Singapore. We have an international section each week, bringing updates from our partner universities too: Nankai University in Tianjin, China; UESTC at Chengdu in China and Columbia University in the City of New York.
We aim to trial this joint, staff-student edition of the Campus e-News until the New Year. From now on, we will aim to publish every Tuesday morning. Your comments and feedback will be very much appreciated and will help us improve not only the Campus e-News, but also our MyGlasgow Staff and MyGlasgow Students online portals.
We look forward to hearing from you!

---
First published: 22 September 2015