News and events round-up
RSE Fellowship for Lilach Sheiner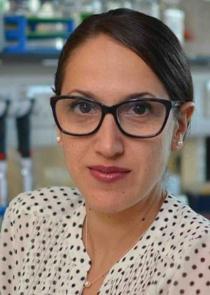 Dr Lilach Sheiner from the University of Glasgow's Wellcome Trust Centre for Molecular Parasitology at the Institute of Infection, Immunity and Inflammation has been awarded a five year research fellowship from the Royal Society of Edinburgh.
The Fellowship scheme aims to provide outstanding researchers, who have the potential to become leaders in their chosen field, with the opportunity to build an independent research career.
Only three people in Scotland were awarded the fellowship this year.
Lilach said: "It an incredible privilege to be a recipient of the RSE personal research fellowship, not only is it a prestigious award but also the award provides crucial support for my research program, allowing my team to pioneer a new line of studies into divergent aspects of parasite biology.
"It is important for me to emphasise that a large number of people helped me at different stages: Liam Morrison, Annette MacLeod, Gareth Lioyd, Megan Macleod, Vicky Morrison, Andy Waters, Gerry Graham, Jon Cooper, Miles Padgett, Richard Cogdell, Markus Meissner and Kostas Tokatlidis."
European Policy for Intellectual Property
MEP Julia Reda, who is leading the European Commission's copyright reform programme, attended the 10th annual conference of the EPIP Association (European Policy for Intellectual Property, held at the University of Glasgow earlier this month.
CREATe, the RCUK Centre for Copyright and New Business Models in the Creative Economy, has now published an analysis of Ms Reda's keynote speech here:
http://bit.ly/1UVupi0.

Dr Kristofer Erickson, Lord Kelvin Adam Smith Fellow in Social Sciences at CREATe, suggests that this event showcases research conducted in the School of Law with potential for policy impact and may therefore be of interest to the wider academic community.
Research Pool Funding Success
A partnership of 14 Scottish universities has won £1.2m in funding to continue building Scotland's excellence in Informatics and Computer Science.
The Scottish Informatics and Computer Science Alliance (SICSA) research pool, established in 2008 by Scottish Funding Council, builds Scottish critical mass and, as evidenced in the results of the Research Excellence Framework, allows Scotland to "hit above its weight" in international research. The funding, including £750,000 from the Scottish Funding Council, runs to 2020.
Coordinated by the University of Glasgow, all 14 Informatics and Computing Science Schools in Scottish Universities are SICSA members.
‌UofG Masters Dissertation wins award

A University of Glasgow graduate has received the Royal Town Planning Institute Student Research 'Highly Commended' Award for his Masters Dissertation.
Andrew Dowell produced his dissertation whilst completing his Masters in City Planning & Real Estate Development. His work had a Glasgow theme: "An Investigation of Public Realm Provision, in Particular Shared Public Space, within Urban Waterfront Regeneration and Analysis of Success with Reference to Two Clyde Riverside Areas"
The award was announced at the recent UK-Ireland Planning Research Conference at London Southbank University.
You can read more on the Royal Town Planning Institute website.
---
First published: 22 September 2015