Follow the yellow brick road
Published: 7 September 2015
A group of colleagues from the Institute of Health and Wellbeing are running The Great Scottish Run 10K dressed as characters from the Wizard of Oz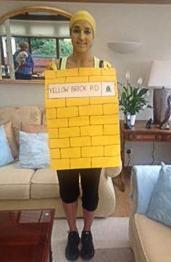 A group of colleagues from the Institute of Health and Wellbeing are running The Great Scottish Run 10K dressed as characters from the Wizard of Oz to raise money for Campsie View School; a school for young people with complex needs.
The group's outfits cover all the main characters from the Wizard of Oz and a few people with even be dressed as yellow bricks to form a 'running road'.
All the runners are part of the Learning Disabilities Group at the Institute of health and Wellbeing; their research focuses on improving the health of people with learning disabilities.
You can support them by donating at Yellow Brick Road Runners.
---
First published: 7 September 2015